What happened to wonder in Tim Burton's 'Alice in Wonderland'?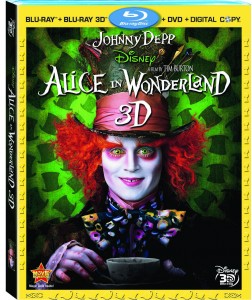 Ever since Big Fish, Tim Burton has been taking some odd steps in the film business (yes, even odd for Burton). His Charlie and Chocolate Factory stands as one of the worst cinematic adaptations of all time. His Sweeney Todd was good, but given the source material, it should have been great. Corpse Bride was clever but felt awfully close to Beetle Juice (remember those days?).
Now comes Alice in Wonderland, the mega hit from Walt Disney. I must first say that the original Alice in Wonderland from 1951 is one of my childhood favorites, and it came as bittersweet news when I heard Burton was going to film a live-action adaptation.
Unfortunately, my early trepidation proved true.
Alice in Wonderland is not Charlie and the Chocolate Factory bad, and for that, I'm thankful. But it's lacking the requisite wonder that makes watching Alice's travails worth the journey down the rabbit hole.
Newcomer Mia Wasikowska looks like a classic Burton heroine, and she does a decent job with the part she is given. But the world around Wasikowska's Alice proves to be the faltering point of this 108-minute movie.
We all know the story by heart. Alice falls down a rabbit hole (in this 2010 remake, she first escapes an engagement announcement from an ill-chosen suitor). She falls through the hole after following a white rabbit. At the bottom of the seemingly endless pit is a little elixir that makes her small and a little piece of cake that makes her tall. Alice uses the ingredients to leave the tunnel and enter the fantastical dimensions of Wonderland.
We see Tweedle Dee and Tweedle Dum (two CGI creations). We see Blue Caterpillar (a CGI creation, voiced by Alan Rickman). We meet Dormouse, March Hare and the Mad Hatter (all CGI creations, except for Hatter, who is played by Johnny Depp). We know these characters from our memory of the iconic story, and thus it becomes necessary for the actors to add a new spin to keep our interest.
They don't.
Depp does his usual weird antics that don't make much sense. I suppose he's acting "mad," but the performance reminded me uneasily of his role as Willy Wonka.
Helena Bonham Carter turns up as the Red Queen and has fun vamping it up. Anne Hathaway's talents are wasted as the underused White Queen. Crispin Glover plays Stayne, the Knave of Hearts. Oddly, he looks like Depp in Edward Scissorhands, Burton's best film. Wasikowska is the strongest of the bunch, and that's chiefly because she has the most screen time.
With such a short movie and so many characters, there is an unfortunate fleeting atmosphere that permeates the story. One doesn't care too much about Alice or her surroundings. What should feel like Dorothy in The Wizard of Oz instead feels like a half-baked idea come to life. It's like Burton called Depp on the phone and said, "Hey, Johnny, so I was thinking … Do you want to try Wonderland?"
All would be forgiven if the great visual master offered some great visuals, but Burton's trademarks are largely missing. There are a few spirals to entice longtime fans. Because of the 3D elements that were featured in movie theaters, much of Wonderland is computer imagery. This creates a situation where nothing seems real or tangible.
Alice in Wonderland is another misfire from the mind of Burton. One wonders how this movie earned so much money. Give me the 1951 original — that'll do me fine.
By John Soltes / Publisher / John@HollywoodSoapbox.com
Alice in Wonderland
Directed by Tim Burton
Written by Linda Woolverton; based on the stories of Lewis Carroll
Starring Mia Wasikowska, Helena Bonham Carter, Johnny Depp, Crispin Glover, Alan Rickman and Anne Hathaway
Running time: 108 minutes
Rated PG for fantasy action/violence involving scary images and situations, and for a smoking caterpillar
Rating:
Revised