'The Woman' is a grisly tale of patriarchal evil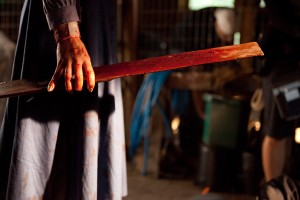 Director Lucky McKee has crafted a terrifyingly effective horror tale that will test the stomach and perhaps the patience of many audience members. It's not a movie worthy of recommendation; however, there is enough appreciable dedication to the project from its creator and stars that it deserves some recognition.
The Woman, starring Pollyana McIntosh in a scarily powerful performance, features a simple plot with seemingly simple characters. Chris Cleek (Sean Bridgers, playing one of the silver screen's most violent villains) gives the impression that he's a loving family man with a thriving law business in town. He enjoys the company of his wife (Angela Bettis) and two children, and, heck, they even have some dogs and a beautiful little farm.
I wouldn't have been surprised to see everyone with dimples. McKee sets the Cleek family up as a bunch of American typicals — BBQ-enjoying, gun-toting people.
Then the "woman" arrives, and all hell begins to break loose. While out on a hunting trip, Chris stumbles upon a half-naked, feral woman with long, ragged hair and dirt-stained skin. He's instantly attracted to the female, but also sees the need to civilize her untamed ways.
After capturing the woman in the woods, he brings her back to his basement and proceeds to tie her up like a dog in the darkness. In a matter-of-fact way, Chris tells his family what he's done and what he plans to do with the prisoner.
Almost instantly, Chris' son (Zach Rand) follows in his footsteps. He loves the prospects of what this experiment may bring to the family. The Creek's daughter (Lauren Ashley Carter) is too preoccupied with her own dilemmas to take much notice. Chris' wife is indifferent, at first, and then increasingly suspect of her husband's behavior.
And so the feral woman is locked up and eventually humiliated into submission. Chris and company wash her, feed her and eventually clothe her. After that, the real horror begins.
The second half of the movie progressively spirals out of control. Scenes of rape, degradation and violence become the norm around the Creek household. Not much of this behavior is explained; it's all chalked up to the fact that father probably doesn't know best.
The final 10 minutes of The Woman, when the inevitable occurs, are gut-wrenchingly bloody. I guess I shouldn't have been surprised: My DVD screener of the movie came carefully wrapped in a vomit bag from Bloody Disgusting Selects, which is releasing the film in theaters on Friday, Oct. 14. There's also been numerous reports of audience members walking out of screenings at the Sundance Film Festival, where the film premiered earlier this year.
To be honest, the violence becomes so exaggerated that it numbs the audience. It's never over-the-top or stylized, like Quentin Tarantino's films. Instead, it comes off as real, carnage-filled and terribly uneasy. It will depend on the individual viewer whether or not it's excessive.
One rewarding point about the film is that the violence at least has a purpose (albeit a small one). This isn't The Human Centipede or some needless display of guts and gore from Eli Roth. The Woman, from beginning to end, tries to say something about America's patriarchal society and the unintended consequences of a culture built around the man. McKee could have conveyed his message with a little less violent oomph, but you can't fault him for at least trying to find a platform.
The acting is superb, and that's why The Woman is so scary. Bridgers is creepy as hell. Bettis is innocent as can be. McIntosh is unrecognizable as the titular character. She growls and hisses like a monster, and it's wholly believable that this woman was raised by wolves.
McKee frightens viewers because he pulls no punches and never wavers from his realistic portrayals. These aren't typical horror actors running around with axes and machetes; they are playing it straight, putting on the smiles and making nice like American families do. When they resort to violence (of the most gruesome kind), it makes the shock factor almost palpable.
Despite all of this, I can't get fully behind this movie. The point it tries to prove could have been achieved without the excessive plot turns. What good is a message if you're forced to look away from the screen?
McKee has talent, to be sure. And The Woman is an effective movie, no doubt about it. It's just that the finished product feels too slimy, too visceral, too violent, too depressing, too subjugating of females. Watching a defenseless woman endure so much is not anyone's cup of tea, and it borders on being too much for a single cinematic experience. Then again, when the finale comes about, watching this woman break from her shackles is equally distressing.
The Woman is a conundrum, and perhaps that's exactly what the filmmaker wanted.
By John Soltes / Publisher / John@HollywoodSoapbox.com
The Woman

Directed by Lucky McKee

Written by McKee and Jack Ketchum

Starring Sean Bridgers, Pollyanna McIntosh and Angela Bettis

Running time: 101 minutes

Rated R for strong bloody violence, torture, a rape, disturbing behavior, some graphic nudity and language

Rating:

Click here for more information on Bloody Disgusting Selects.