'BREAKING BAD' REVIEW: Season Two, Episode Two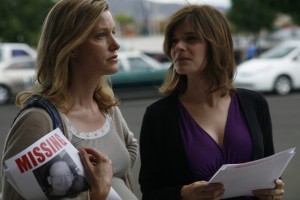 Review of "Grilled" (02:02)
SPOILER ALERT!
In the second episode of Breaking Bad's second season, Walt (Bryan Cranston) is "missing" and his brother-in-law Hank (Dean Norris) is on the hunt. Coincidentally, as Hank personally explores Walt's mysterious life, he also is professionally looking for Tuco (Raymond Cruz), the badass drug dealer who has escaped the authorities time and time again. Little does the DEA agent know that both his searches will wind up in the same place: Tuco has imprisoned Walt and Jesse (Aaron Paul) in a middle-of-nowhere house owned by his invalid father.
Skyler (Anna Gun), who is still perpetually pregnant, turns into an unlikely detective herself. She canvasses the neighborhood with "Missing Person" signs and talks with the authorities about her husband's last known whereabouts. Simmering under her calm façade is a growing hatred for Walt. Not only is she prepping for her second child. Not only is she worried about paying the bills. Not only is her husband dying of lung cancer. Not only is her sister (Betsy Brandt) a klepto. But now Walt has apparently skipped town or been kidnapped. It's all becoming too much for the loyal wife and dedicated mother.
In the house of Tuco's father, the deranged dealer plays mind games with Walt and Jesse. He always seems two seconds away from gory violence. Even his father, played by the great Mark Margolis, seems creepy and deceptive. He doesn't talk and is relegated to a wheelchair, but there's something mysterious about the old man.
Hank continues his two investigations, and he stops in at the house of Jesse's parents. Soon enough, he begins to realize that Jesse and Tuco have some connection.
Like an old-style Western, everything converges on a big shootout at the Tuco residence. Luckily, Walt and Jesse are able to escape before Hank finds them. Tuco isn't so lucky. He goes down like a warrior. For such a crazy, crazy guy, he will be missed from the show.
"Grilled" is a superb episode, and I would rank it among Breaking Bad's best. It features all the components that make for great television: drama, action, smart police work, invigorating conversation, nail-biting suspense.
Perhaps the most appreciable aspect of the episode is that the focus is finally taken off Walt. One single character can't hold up an entire show. "Grilled" boldly puts its protagonist aside and hones in on Skyler, Tuco and Hank. We're obviously moving toward some type of showdown between Walt and Hank, and I would also add Skyler and Walt. The high school chemistry teacher can't keep his lies spinning out of control. In one form or another, the end is near. Walt is a classic Shakespearean character, and that means he will need to meet his demise in order to come full circle. I'm not sure if this means Walt will die at the end of the series, or that something profound and possibly earth-shattering (prison, divorce, etc.) will have to occur.
Either way, I'm watching.
By John Soltes / Publisher / John@HollywoodSoapbox.com
Breaking Bad

AMC

Created by Vince Gilligan

Starring Bryan Cranston, Anna Gunn, Aaron Paul, Dean Norris and RJ Mitte

Rating: