'DEXTER' REVIEW: Season Five, Episode Two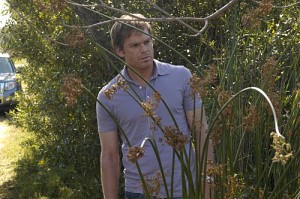 Review of "Hello, Bandit" (05:02)
SPOILER ALERT!
Dexter's fifth season continues in episode two with serious repair work. Rita (Julie Benz) is dead, so there's the obvious investigation into her death. I still find it hard to believe that the FBI and Miami Homicide Division wouldn't at least entertain the idea that Dexter Morgan (Michael C. Hall) could be a suspect in his wife's death.
Sure, there's some questioning and a couple pointed fingers, but come on, this guy seems to have pulled the wool over everyone's eyes.
Quinn (Desmond Harrington) is the only one who suspects domestic foul play, and he's the one who is ostracized for his doubts.
To keep his mind on matters, Dexter finds his next victim. That person is Boyd Fowler (Shawn Hatosy), a worker with the sanitation department who cleans dead animal carcasses off the road. Dexter thinks something dark is hiding behind Boyd's black-rimmed glasses. And, of course, he's right.
Meanwhile, the detectives get back to work and start investigating a decapitation murder that has ritualistic ties. Helping the suits is Miami Police Officer Cira Manzon (April L. Hernandez), who knows the community where the crime occurred.
So everything is easily falling into place — and it's only two episodes since Rita kicked the bucket. The detectives have their case. Dexter has his new obsession. Quinn has his suspicions. And, best of all, Rita's two kids from her previous marriage are shipped off to Orlando with their paternal grandparents (that one particular storyline feels like convenient tidiness by the writers).
I'm not terribly ecstatic about season five, although I see some definite potential. Boyd doesn't cross me as a season-long villain; he simply can't match the malevolent brilliance of Arthur Mitchell or the Ice Truck Killer.
To build on the strengths of the fourth season, Dexter needs to focus on its best characters. Debra Morgan (Jennifer Carpenter) deserves further exploration, as does Vince Masuka (C.S. Lee) and even Quinn. I wouldn't mind a little less time with Sgt. Angel Batista (David Zayas), Lt. Maria LaGuerta (Lauren Velez) and their increasingly unbelievable relationship. Whatever could have been added by exploring this personal angle has come at the expense of their detective work.
I still have much hope for this show. I don't mean to sound the alarms. It's just that when a television series has built a clever premise (albeit working off a successful book) with clever characters and clever storylines, you become protective of the show. You want it to succeed on all levels and in every episode. Dexter, I have now realized, is simply not perfect. It has fallen victim to a convoluted plot that has been driven off the rails, and its focus falls on several uninteresting, tertiary side stories (Batista-LaGuerta, Rita-Neighbor).
Come on Dexter … retake that crown. Get back to the good stuff — the bloody stuff.
By John Soltes / Publisher /
John@HollywoodSoapbox.com
Dexter

Showtime

Starring Michael C. Hall, Jennifer Carpenter, C.S. Lee, Desmond Harrington, Lauren Vélez and David Zayas


Rating:


Click here to purchase Dexter: Season Five on DVD.