Emily Skinner gives them the old razzle-dazzle in 'Billy Elliot'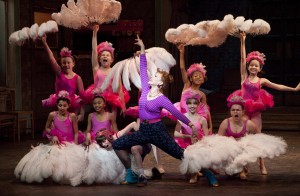 NEW YORK — Eight times a week, Emily Skinner, the Tony-nominated actress who has appeared on many stages across the United States, travels back in time to County Durham in northern England, circa the mid-1980s. There, amidst a crippling miners' strike and debilitating impoverishment, Skinner's character of Mrs. Wilkinson finds a diamond in the rough. Her discovery is the backbone of Billy Elliot The Musical, which has been successfully playing on Broadway for several years.
"It's been so much fun," the actress said of her time with the show. "The audiences have been great."
Skinner first played the role of Mrs. Wilkinson in Chicago as part of the touring company. For the past few months, she's been bringing the iconic role to life on Broadway at the Imperial Theatre.
The part of Mrs. Wilkinson is a crucial one for the story, which originally began as an Oscar-nominated film. Skinner's role as an unconventional ballet teacher is the inspiration that the title character needs to find his dancing feet. If it weren't for his no-nonsense instructor, Billy would never overcome the social stigma of being the only boy in an all-girls' ballet class.
At a recent performance, Skinner's talents were on fine display. Billy stumbles into her class after boxing practice and within a few short minutes is whisked away with the girls in tutus. Skinner, without missing a beat, looks at the young lad and simply starts teaching him some basic lessons of ballet. The instantaneous and hard-earned trust of their relationship only feels natural because of the many weeks of practice from the actors.
Skinner sees her character as a strong woman who has had some failures in life with her own dancing career, her marriage and the difficulty she has with her daughter. But when Billy steps into her practice studio, Mrs. Wilkinson sees true potential and a ticket out of the doldrums. "She wants him to succeed," Skinner said. "She wants him to break out of that town and go to London. In some ways, she is vicariously living through his success."
The role is a dynamic one for the accomplished actress. It requires a good deal of dramatic acting, dancing and singing. One of her biggest numbers is "Shine," a first-act showstopper that finds Mrs. Wilkinson and her dancing wards recreating an elaborately staged love letter to the performing arts. "That number is excellent," she said. "It kind of just comes out of nowhere, and then the audience is like, 'What did we just see?'"
Skinner, who said she'll continue with the Broadway company until she confirms her next move, is a common presence on the Great White Way. She counts her Tony-nominated role in Side Show, where she played one half of a pair of conjoined twins with Alice Ripley, as one of her favorite memories.
Other credits include roles in the original companies of Jekyll & Hyde, The Full Monty, James Joyce's The Dead and Dinner at Eight, among numerous others. The actress said the chance to create a role, rather than revive one, is the ultimate experience for a dedicated performer.
With the life of a working actress comes the realization that theater can be daunting. With Billy Elliot, Skinner not only performs eight times a week, including three matinees, but she also finds herself in the rehearsal studio working with the young actors for the title role.
"I've been in the show for quite a bit, so I've seen several Billys come through," she said. "And it's great to see these talented actors work so hard and then move on. You can't play the part of Billy for too long. … So there needs to be a lot of rehearsals."
Because Skinner has been with the show both in Chicago and New York City, she has worked with quite a number of Billys. "This makes each performance unique," she said. "I have a different relationship with each of the actors playing Billy. So some nights I stress one thing, while other nights I stress another."
The continuity for the whole production, Skinner said, is thanks to an extensive network of behind-the-scenes professionals who train the young dancers for their big debuts.
According to Skinner, the rehearsals are difficult and leave little time for rest, but she feels privileged to walk out on the stage of the Imperial Theatre almost every single night and sing those iconic songs from Elton John and Lee Hall. "I think it's probably my favorite Elton John musical," she said. "These songs are perfectly placed in the show. They continue the story and add so much."
It's safe to say that Emily Skinner has had a wondrous time giving them the old razzle-dazzle and shining.
By John Soltes / Publisher / John@HollywoodSoapbox.com
Click here for more information.