Soledad Barrio and Noche Flamenca move toward theatricality with new Joyce show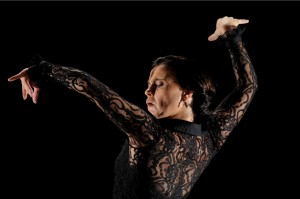 Soledad Barrio, the preeminent flamenco dancer of our age, has boldly brought her art form into the 21st century by preserving its traditions and expanding upon its potential. With a steely gaze and fiery movements, she has transfixed audiences around the world and especially in New York City, where she performs at the Joyce Theater through Oct. 2 with Noche Flamenca.
The 90-minute program, overseen by Barrio's husband, Martín Santangelo, features something I've never witnessed at a flamenco performance: creative, effective theatricality. Not only do the assembled dancers, singers and guitarists emote their musical selections with pained faces of anguish and temptation, but now they have added several movements and storylines that make the evening a more put-together affair.
What can often feel like a patchwork of talent now comes off as vibrantly connected. The show doesn't feature a continuous plot, but it comes close to sharing a common thread.
In one sequence titled "Oda al Amor," Barrio and the skilled Antonio Jiménez dance their way around a cloaked figure representing Death. The added character is a welcome change for the dance troupe, which often focuses on resounding group numbers or intimate solo pieces. With "Oda al Amor," they have opened the door to new possibilities, inviting physical-form stories that were previously relegated to body movements. In many ways, Death, with its slow, methodical movements, represents Noche Flamenca's opposing viewpoint. These dancers, representing pain and love, are gloriously alive. Death threatens their way of life.
Barrio moves back and forth with the mysterious figure, always keeping a few steps ahead of her demise. It's only in the quiet final moments that the dancer literally embraces the inevitable.
As usual, the highlight of the program still resides with Barrio and her ultimate solo piece, here titled "Soledad."
The passion that comes with flamenco has almost become a cliche. Performers can mask sub-par dance skills with elaborate facial expressions and twisty curlicues of the hand (just visit Madrid for a fair share of "tourist-attraction" flamenco). Barrio has never been that type of performer. Her passion only comes organically, from somewhere deep within. It resonates on her face, but more importantly can be found in her undulating arms and sweeping gestures. Her characteristic move is a dizzying spin where she drops her head and stares at the ground. The flourishes only end after a natural crescendo is reached and the audience is near a standing ovation.
Other enjoyments in the program include Alejandro Granados' humorous "El Patuka," a solo piece that uses the dancer's ebullience and unique skills for a fitting reminder that flamenco doesn't always need to be serious. Jiménez also astounds with his "Caminando," a combative dance sequence that features some of the best footwork of the night.
Manuel Gago, Emilio Florido and Miguel Rosendo, who filled in for Carmina Cortes at the performance I attended, offered deep-throated incantations that sometimes eclipsed the dancing feet on stage. Their solo number was a perfect meditation before Barrio's finale.
Taken together, the guitar playing, singing and dancing all blended nicely together for a night of flamenco that was not a rehash of a tired art form, but a new-found resurgence. Barrio and company are able to let history inform their work, but never weigh it down. There is an outline of traditional flamenco, but it never comes across as ordinary or shackled. These dancers challenge each other, spiritedly and continually, to go the extra step and realize the drama of their actions.
Santangelo, who serves as artistic director of Noche Flamenca, is an able choreographer who couples strict movements with seeming improvisation. Everything simultaneously feels like a work of the mind and a work of practice. That ability to be masterful, yet fresh, is uncommon in an artistic style that dates back hundreds of years and to many legendary interpreters.
Soledad Barrio and Noche Flamenca continue to be the trustworthy torch-bearers of passion personified. They bring a lifetime of emotion before the audience, letting their unleashed sentiments travel miles through their feet, their faces, their arms, their voices and their hearts. The droplets of sweat that fall from their foreheads at the end of the performance are well earned.
By John Soltes / Publisher / John@HollywoodSoapbox.com
Soledad Barrio and Noche Flamenca

Starring Soledad Barrio, Alejandro Granados and Antonio Jiménez

Singers include Manuel Gago, Emilio Florido, Carmina Cortes and Miguel Rosendo

Guitarists include Salva de María and Eugenio Iglesias

Artistic director and choreographer: Martín Santangelo

Playing at the Joyce Theater at 175 Eighth Ave. in New York City through Sunday, Oct. 2


Click here for more information. Tickets are priced from $10-$75.

Running time: 90 minutes

Rating:

Click here for more information on Noche Flamenca.