Vittorio De Sica's 'Marriage, Italian Style' finds love in all the wrong places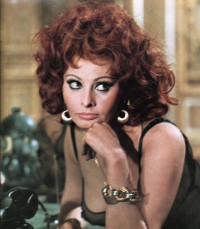 It's difficult to watch a movie during Sophia Loren's commanding heyday and not be transfixed by the Italian beauty's poise, power and persuasive eyes. She has that rare ability of walking like a supermodel, but always imbuing her characters with brains and a backbone. She's the closest thing to a cinematic Siren.
In Marriage, Italian Style, Vittorio De Sica's love letter to complicated love in 1964 Naples, Loren is perfectly in her element. She's playing a part that her cinematic resume knows all too well: Filumena Marturano, a prostitute who still claims her independence, even when subjugating herself to leering men.
One of her johns is Domenico Soriano (played by the always dapper Marcello Mastroianni), the owner of a local bakery and all-around neighborhood staple. But this client is more than just a one-night stand. Both Filumena and Domenico fall for each other, but are unable to carry on a functional relationship. They come and go with fights and make-up kisses, but they never actually solidfy their love with proper nuptials.
He rents her an apartment and buys her the best of the best. But rather than being content, Filumena can't tell whether their relationship is healthily progressing or simply an elongated bordello encounter. He pays for things, but does he expect something in return? Is he any different from her other clients?
We learn of their 20-year fling through a series of flashbacks. The present circumstances are not as rosy as the memories. Filumena has taken ill and both her priest and doctor are preparing for the worst. Domenico's ravishing cohort is about to exit this world, and all Filumena wants before she dies is to marry the one man who stuck with her (somewhat) throughout the years. This aging prostitute is looking for some semblance of finality and penance.
De Sica, working off a screenplay by Eduardo De Filippo, Renato Castellani, Tonino Guerra and Piero DeBernardi, cleverly uses the conventions of the romantic-comedy genre, but never cheats the characters of breaking out their molds. This is not a typical love found, love lost and love regained picture. It's a finely focused tango between two people who can't live together and can't live apart. Filumena and Domenico are an imperfectly perfect couple, smitten with each other, yet emotionally distant.
Thankfully, Loren and Mastroianni are up to the task of bringing these two powerfully independent characters to life. In lesser hands, the movie could have fallen apart. Loren, wearing her iconic negligee, has that uncanny ability of turning from weepy to passionate in the snap of a finger. Mastroianni purses his lips and walks around the streets of Naples as if everything falls under his domain. These characters are not stretches for these actors, but they never become paint-by-numbers creations.
Much credit must be given to De Sica for keeping the mood light, but also grounded in reality. The impoverishment of Filumena is not handled as a convenient plot point, nor are some of the revelations that come later in the film. Everything is dealt with in the same way as the characterizations: truthful, emotional and loving.
Even in the movie's final act, when a rather farcical element is folded into the mix, Marriage, Italian Style keeps its head above the water. We know that Filumena and Domenico will never truly separate, even when knocking on death's door. This realization is not a given, but rather earned by these attractive and alluring actors.
By John Soltes / Publisher / John@HollywoodSoapbox.com
Marriage, Italian Style

Directed by Vittorio De Sica

Written by Eduardo De Filippo, Renato Castellani, Tonino Guerra and Piero DeBernardi; based on the play Filumena Marturano by De Filippo


Starring Sophia Loren and Marcello Mastroianni

Running time: 102 minutes

In Italian, with English subtitles

Rating:

Click here for more information on New York City's Film Forum, where Marriage, Italian Style will play on a double-bill with The Temptation of Dr. Antonio, Sept. 23-29.