'LAKE WATER' REVIEW: Two characters in search of ripples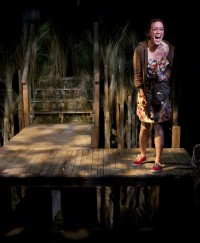 NEW YORK — There's something hauntingly effective about Lake Water, the new two-hander from Troy Deutsch, currently playing the IRT Theater in New York City's West Village.
The 75-minute piece, which features two strong performances from Deutsch and Samantha Soule, seems ripped from the headlines and yet never comes across as a message play. Uncomfortable topics like teen suicide and bullying are handled with a gentle touch, never overwhelming the play with an unearned sense of self-importance.
Deutsch has created an intimate platform for his two creations – James and Iris – and the rest he leaves in their hands. For the most part, the characters prove to be endearing, albeit complicated, company.
The two friends meet on a wooden dock overgrown with weeds. It juts out over a smelly lake in the backwoods of Minnesota, all expertly realized by scenic designer Eugenia Furneaux-Arends. It's their spot, the place they can be alone and talk about the insanities of their daily existence at the local high school.
As the audience first enters the tiny black-box theater at IRT, James is already sitting on the dock, drinking beer and obviously thinking hard about something or someone. When the play officially kicks off, Iris approaches from the woods, wondering why her friend has insisted on meeting before the stillness of the lake.
The revelations that emerge are dramatic, but never melodramatic. They have both lost a good friend to suicide, but the debate about what happened and whether it could have been prevented is far from over.
As the various layers of this theatrical onion are peeled away, Deutsch never falls victim to cliche plot points or exaggerated storytelling. He roots his words in the banter of friends, the comfort of conversation. There are times when the vocabulary is heightened to the point where it's difficult to picture high school students talking like James and Iris (I'm not sure if a student so young would jump at the chance to use the word "periphery"), and the actors are a little too old for their parts.
But the majority of the dialogue, which many times becomes heated and emotional, is quite poetic and nicely handled. And the actors are able to make the language sing with grace. Soule adds an overachiever quality to Iris that will be instantly recognizable to most audience members. She is a girl who values student government and actually has a plan to break from the strictures of her hometown. When she screams at the top of her lungs, it's not just to hear the echo of her voice. There is an increasingly unhinged desire to get away from it all, to pick up and find a new place to call home.
Adolescence and high school have been difficult for these two; yet, it has also been refreshingly human, filled with friends and memories, not all of them positive.
Deutsch is similarly excellent as James. He's a broken young man who can't quite articulate what ails him. He simultaneously wants to befriend, love and castigate Iris. One moment they're reliving their memories of friendship, while the next moment, James is deriding Iris for her former obesity. The two characters know each other so well that they know how to arm themselves and hurt each other with just a few words.
Lake Water, which is directed with a careful hand by Daniel Talbott, isn't perfect. There are times when the wooden planks of the dock feel too suffocating for James and Iris. It would be great to see these two in different environments, to actually see their pain and joy, rather than just hear about it. There's also a mysteriousness about several plot points that proves frustrating and almost distracting. One tries not to become a sleuth when hearing exposition, but it's difficult not to try and patch together an intricately woven fabric when there are so many threads dangling in the theater.
Still, after our short visit with these characters is complete, there is no denying that the time is well served. Being a fly on the wall (or a mosquito hovering over the water, in this case) is a privileged opportunity to view the inner-workings of troubled minds yearning for amends.
Lake Water, which runs through Oct. 2, deserves further exploration and a life beyond the few dozen seats of the IRT Theater.
By John Soltes / Publisher / John@HollywoodSoapbox.com
Lake Water

Written by Troy Deutsch

Directed by Daniel Talbott

Starring Deutsch and Samantha Soule

Scenery by Eugenia Furneaux-Arends

Costume Design by Tristan Scott Barton Raines

Lighting Design by Brad Peterson

Sound Design by Janie Bullard

Playing at the IRT Theater at 154 Christopher St. in New York City

Click here for more information. Tickets are $18.

Running time: 75 minutes

Rating: