Anita Ekberg pops off the screen in 'The Temptation of Dr. Antonio'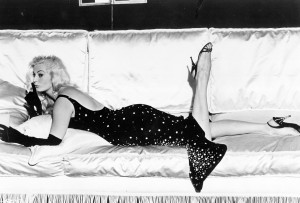 Director Federico Fellini's contribution to the omnibus Boccaccio '70 is a comedic little parable about censorship, lust and religion. Opening Sept. 23 at New York City's Film Forum, some 50 years after its initial release, The Temptation of Dr. Antonio stars Peppino de Filippo as Dr. Antonio Mazzuolo, a stuffy conservative who self-appoints himself public censor of his local neighborhood. Anything and anyone that could be considered risqué comes under the watchful eye of the good doctor.
For the most part, this aging archetype is able to exist in his small world of increasing modernization. He tsk-tsks the exposed legs and youthful antics around him, but he is content with his life of protest against the profane. This curmudgeon smiles as much as he decries.
Then comes Anita Ekberg.
The blonde bombshell with perhaps the most famous cleavage in cinematic history is by definition three-dimensional, but Dr. Antonio first meets her as a two-dimensional creation. An enormous billboard with Ekberg lounging in a sexy pose is built across from the censor's apartment, inviting passersby to enjoy the benefits of milk (pun intended).
The doctor is driven mad over the advertisement. He admonishes the abomination to the local church, yells at people who camp out beneath the shadows of Ekberg's breasts and demands the authorities rip down the unique beauty. Many of his pleas fall on deaf ears; the independence of Ekberg's sex appeal wins out over Mazzuolo's conservative ways. The doctor finds himself a stalwart for a near-deceased thesis.
This being a Fellini film, Dr. Antonio endures a prolonged dream sequence where Ekberg leaves the advertisement's constrictive ways and torments the censor as an Amazonian-like giant.
The movie, which was released after La Dolce Vita and right before 8 1/2, is a quaint, clever tale that proves its point within a few minutes. The "message" behind this story is not terribly subtle, but thankfully Fellini enlivens his creations with a dreamy wistfulness that makes them entirely captivating. It's almost like The Temptation of Dr. Antonio were a cartoon, because the story evolves into a cat-and-mouse comedy between two polar opposites.
De Filippo is spot-on as the demanding censor. He has an unflinching gruffness to his voice and posture, telling the community around him that he means business. With Dr. Antonio as the straight man, Ekberg gets to laugh her way into the movie by poking fun at Mazzuolo's tired ways.
Otello Martelli's cinematography is characteristically beautiful, and he is able to stage several of the fantastical scenes with an enjoyable exaggeration.
Fellini has done better work, but as a short film that hangs its purpose proudly on its shoulder, The Temptation of Dr. Antonio is quite tempting, indeed.
By John Soltes / Publisher / John@HollywoodSoapbox.com
The Temptation of Dr. Antonio

Part of Boccaccio '70

Directed by Federico Fellini

Written by Fellini, Ennio Flaiano, Goffredo Parise, Tullio Pinelli and B. Rondi

Starring Anita Ekberg and Peppino De Filippo

Running time: 53 minutes

In Italian, with English subtitles

Rating:

Click here for more information on Film Forum, where The Temptation of Dr. Antonio will play on a double-bill with Marriage, Italian Style, Sept. 23-29.