'BREAKING BAD' REVIEW: Season Two, Episode One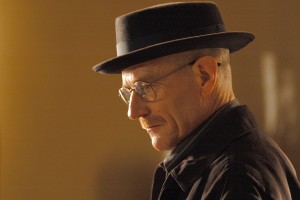 Review of "Seven Thirty-Seven" (02:01)
SPOILER ALERT!
The difficulties continue to mount for Walter White (Bryan Cranston) in the season-two premiere of Breaking Bad. He's still in need of money. His partner, Jesse (Aaron Paul), is still a blithering idiot. His wife (Anna Gunn) and son (RJ Mitte) look at him like he's a stranger. Tuco (Raymond Cruz), a menacing drug dealer with a violent streak, is getting crazier and crazier. Oh, and he's still dying of lung cancer.
When's a man supposed to breathe?
"Seven Thirty-Seven" opens with scenes from the season-one finale. Tuco is displayed in all of his unhinged fury, while Walt and Jesse standby just about shaking in their boots. They are the definition of being "in over their heads."
When Walt comes home, he continues his strange path of needing sexual satisfaction immediately. We saw this previously in the bedroom and in the classroom, and now he literally attacks Skyler (Gunn) in the kitchen and almost rapes her. It's an uncomfortable, yet effective, scene that shows the increasingly widening gap between husband and wife.
On the drug front, Tuco circles around Jesse's house and calls him in the middle of the night. The punk druggie calls Walt and tells him that he thinks they're goose is cooked. At first, Walt chides Jesse for calling his house,  but he soon realizes that Tuco is probably watching his house as well. His two worlds — one public, one private — are starting to converge.
Sykler continues to fight with her sister, Marie (Betsy Brandt), after the whole diamond-studded tiara incident from season one. Meanwhile, Hank (Dean Norris) and his team of DEA agents start closing in on Jesse and Walt. In particular, they begin to review security footage from a recent robbery of a chemical used to cook meth (for newbies, the two guys in the footage are Jesse and Walt).
The episode comes to a close when one of Tuco's accomplices is found dead and Jesse and Walt try to escape the clutches of the badass dealer. The final scene: Our two unlikely heroes are kidnapped.
Breaking Bad's season two is probably the best follow-up that could be asked for after an impressive inaugural season. It's difficult to keep up the energy in a television series from season to season, but Breaking Bad achieves its goals by slowing down time and taking extra moments with each of the characters. Every episode focuses in on a limited number of conversations and intense sequences. The actual time from beginning to end sometimes is only a few hours. Then, the next episode features a few more hours. We are dissecting these people, rather than simply viewing them.
Of all the dramas on television right now, is there any other show that stresses characterization more than Breaking Bad? I feel like I know these creations. I even care for them, which is somewhat surprising, because most of them make poor choices with harsh consequences.
Season two's opener proves this is no one-hit wonder.
By John Soltes / Publisher / John@HollywoodSoapbox.com
Breaking Bad

AMC

Created by Vince Gilligan

Starring Bryan Cranston, Anna Gunn, Aaron Paul, Dean Norris and RJ Mitte

Rating: