FILM REVIEW: Shut up and 'Drive'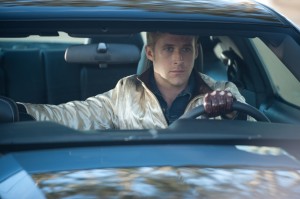 Up-and-coming director Nicolas Winding Refn has crafted one of the finest films of the year. Drive, a neo-noir thriller starring Ryan Gosling and Carey Mulligan, relies heavily on shadows, scenery and slanted camera angles. The look and feel of the film are even more detailed than the characters who make their way around the streets of Los Angeles.
Gosling plays the nameless character known simply as the Driver. He's a man who has patched together a career out of his unbelievable ability to drive cars. He works in an auto-body shop for Shannon (Bryan Cranston) and occasionally performs death-defying stunts for Hollywood movies. The real loot comes from his nightly escapades, where he moonlights as a getaway man for robberies around the city. He never uses a gun and he gives his clients 5 minutes to get in and get out. If they're late, he leaves them behind.
Everything is going swimmingly for the Driver until a series of unfortunate (or fortunate?) coincidences finds him getting closer to his neighbor down the hallway, Irene (Mulligan), and working for Bernie Rose (Albert Brooks), a connected boss with a violent streak. Eventually, it's up to this main character to do what he does best, otherwise he and the people he cares for will pay the ultimate price.
Hossein Amini's screenplay, based on the book by James Sallis, is brilliantly bare. Throughout the entire 100-minute film, there are few lines of dialogue. The only real talking comes from Bernie and his partner, Nino (Ron Perlman). As for the Driver and Irene, they convey their thoughts with deep stares, half-turned smiles and lengthy intervals of silence.
For some, this slow burn will prove frustrating. This is not to say that Drive is ever a dull movie. The action sequences, all expertly staged, are adrenaline-pumping and bloody, bloody good. But for every car chase there is a lengthy sequence of smiling, brooding and existential thinking. Far from ruining the movie, this uniqueness in pacing is what sets Drive apart. This is not another dumb action flick. Refn is much more interested in atmosphere and mystery, of setting the Driver apart from anyone and anything in his life.
This character, convincingly played by Gosling, has no past or backstory. We don't know what makes him tick and why he has this incredible need for speed. And just when we think we've figured him out, he drives in an opposite direction. At first, he feels like a pacifist who simply is trying to earn some extra money on the side. But then the Driver unleashes a violent fury on those people looking to kill him (and, trust me, it's a violent, violent fury). Where does this anger and passion come from? Refn never answers this, and that makes Drive an inkblot of curiosities. It's wonderfully frustrating, but never less than compelling.
All of the performances are enjoyable. Gosling holds the film together, while Brooks plays an able archenemy. Perlman is scarily good as Bernie's partner, while there's a definite likability to Cranston's Shannon. Mulligan is nice as the innocent next-door neighbor who needs to take care of her son while her husband is in prison. But if there was one part of Drive's screenplay that feels imbalanced, it would have to deal with this Irene character. Because she hardly talks throughout the film, it's difficult to find the real person. Chalk it up to a female character finding herself in the middle of a definitive guys movie. There's bad guys and worse guys in Drive, and unfortunately not much room for anyone else.
The look of the film, from the pink, cursive opening credits to the many shots of L.A. at night, is one of the movie's strongest suits. It reminded me of Michael Mann's Collateral, starring Tom Cruise and Jamie Foxx. The urban landscape becomes a constrictive maze for these characters. Whereas the horizon should promise opportunity and success, the people who bring Drive to life are more apt to hole up in apartment and think about what to do next. They may be drivers, but, more importantly, they are ponderers.
By John Soltes / Publisher / John@HollywoodSoapbox.com
Drive

Directed by Nicolas Winding Refn

Written by Hossein Amini; based on the book by James Sallis

Starring Ryan Gosling, Carey Mulligan, Bryan Cranston, Albert Brooks, Ron Perlman and Christina Hendricks

Running time: 100 minutes

Rated R for strong brutal bloody violence, language and some nudity

Rating:

Click here to purchase Drive on DVD.