'DEXTER' REVIEW: Season Five, Episode One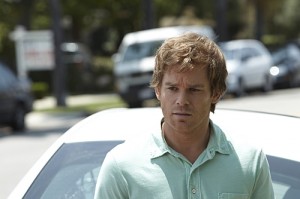 Review of "My Bad" (05:01)
SPOILER ALERT!
Dexter's fifth season kicks off right where audiences want it to: the aftermath of Rita's murder scene. The police arrive at the house and Dexter (Michael C. Hall) is in a daze. Stupidly (and revealingly) he tells the officers that "it was me." Now, in most investigations, the husband is looked at first when a wife dies. The fact that Dexter essentially confessed to the crime should have been a tip-off, but thankfully Debra (Jennifer Carpenter) steps in and ushers her brother away from the spotlight.
Vince Masuka (C.S. Lee) arrives with Sgt. Angela Batista (David Zayas) and Lt. Maria LaGuerta (Lauren Velez). They see the bloody bathtub and feel instant despair for Dexter. He is one of their own.
Detective Quinn (Desmond Harrington) also shows up on the scene and completely botches any continuity with the fourth season. Not only is the actor sporting a slick new haircut, but he appears to have lost weight as well. Isn't this season premiere supposed to be a few minutes after the last season finale?
LaGuerta, realizing the touchiness of the case, smartly hands it over to the FBI, chalking it up as another Trinity kill. Her detectives think it's the wrong move, but there's only one boss in this homicide division.
"My Bad" continues with much sadness. Rita's children, who were vacationing with their paternal grandparents at Disney World, arrive back to hear the news. Shocked and upset, Astor (Christina Robinson) blames Dexter for screwing up their family and essentially causing her mother's death. (That little girl is rather astute.)
The episode continues through funeral arrangements and Debra trying to be as good a sister as possible. Along the way, she trips up a bit and sleeps with Quinn in Rita and Dexter's old house (I'm pretty sure that's wrong), and Quinn begins investigating the murder himself, much to LaGuerta's chagrin.
Dexter meanwhile is going through a variety of emotionless emotions. He flashbacks to his first date with Rita and remembers how he left in the middle of their dinner, because he had some killing to do. The blood specialist is blaming himself for everything, and he shows genuine empathy for the loss of life. This may be the closest that Dexter has come to actual feelings on the show.
Deciding to hide from society for the rest of his life, Dexter sets the funeral in motion and then revs up his boat for a long journey to somewhere else. The only thing that changes his mind is when he has a run-in with a guy at a gas station. The blood that spills in the bathroom of the gas station reminds him he still has a pulse.
If you accept the fact that Dexter has become an impossibly far-fetched show, then there is much to enjoy in the season five premiere. Starting off right after he finds Rita in the bathtub is a smart move. There is still a sense of lost closure over this character, so the audience needs to see the funeral and witness the grieving. Dexter may not have a heart, but the show needs to have one.
The Showtime series will excel in future seasons if it realizes its strengths and downplays its weaknesses.
Strengths: Carpenter has come into her own as an actress. Debra Morgan is arguably the most fascinating character on the show, and she should become a pivotal addition to any future episode. I'd also recognize some of the supporting characters as pluses, including Masuka, Batista and LaGuerta.
Weaknesses: The Quinn character needs fleshing out, and Dexter needs to get back to the basics. The intensity level can be taken down a few notches, so the cast can regroup and do what they should do best: investigate crimes.
By John Soltes / Publisher / John@HollywoodSoapbox.com
Dexter

Showtime

Starring Michael C. Hall, Jennifer Carpenter, C.S. Lee, Desmond Harrington, Lauren Vélez and David Zayas


Rating:


Click here to purchase Dexter: Season Five on DVD.