'JERSEY SHORE ITALY' RECAP: We miss the drama (and the real fights)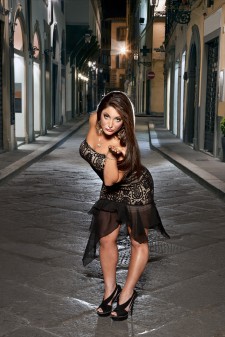 Are we still watching Jersey Shore? Is the status of Ronnie and Sammi still water-cooler conversation? You bet it is … or maybe we are just waiting to see if what we once loved can still deliver. Either way, we set our DVRs and wait with expectant eyes to see Snooki, Jwoww and The Situation tear it up in Italy.
Dare I say this season is tame … well, tame compared to the dirty Jersey antics this cast is known to enjoy.
MTV fooled viewers into believing Ronnie knocked out his roommate Mike, The Situation. After the episode aired, I couldn't help but laugh at the fact that Mike actually knocked himself out. In a Ronnie-inspired rage, Mike slams himself into the wall of their Florence digs. He now walks around with a neck brace, unable to turn drink or, more importantly, fist pump.
At least we have the hysterical antics of Pauly D and Vinny. They imitate Mike wearing his trusty neck brace and chant "fist-pump, push-ups, chap stick" as their mantra to get a laugh out of their fellow roommates. During their character development, we do catch a rare glimpse of some never-before-seen images: Pauly D without hair gel. It is like seeing a nun without her habit.
Deena meets a native Italian who she is very interested in getting to know better. When he makes an appearance at her place around 4 a.m., Deena admits to being very drunk after she kneels on broken glass by accident. Even in her drunken state she cannot overlook the fact that her male suitor has a love bite (i.e. hickey) on his neck. When she questions him about the hickey, he claims his sister gave it to her. Incest is apparently a turnoff for Deena. Thank goodness!
Jwoww and Snooki are very tame this season as they attempt to impress their gorilla boyfriends back home, although an intervention seems imminent for Snooki. Her boyfriend, Jionni, is very controlling and untrusting. Even with Snooki on her best behavior, it does not seem to be enough to satisfy Jionni. She is forced to not be her free-spirited, sex-talking, belching, pickle-eating self. The roommates are nervous she may not preserve her charming ways and are discussing a way to intervene.
The Ronnie and Sammi drama fills the rest of the episodes. It's like listening to the same annoying record over and over and over and over again. Even a loyal viewer cannot keep track of whether or not they are together. Ronnie buys Sammi flowers, which elicits Sammi to ask if they were originally for another girl, which leads Ronnie to throw the flowers in the trash. Small gestures are either overlooked by Sammi or blown-up to mean a lot more than they should.
For a largely drama-less season, at least Ronnie and Sammi are dramatic
By Bear Adams / TV Columnist / Bear@HollywoodSoapbox.com
Click here for more information on Jersey Shore.