'BREAKING BAD' REVIEW: Season One, Episode Seven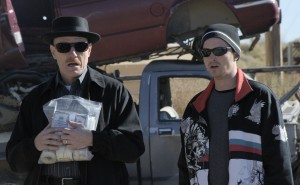 Review of "A No-Rough-Stuff-Type Deal" (01:07)
SPOILER ALERT!
After only seven episodes, the season one finale of Breaking Bad has arrived. Walt (Bryan Cranston), Walt Jr. (RJ Mitte), Skyler (Anna Gunn), Jesse (Aaron Paul), Hank (Dean Norris), Marie (Betsy Brandt) and Tuco (Raymond Cruz) have been good company. Their lives are interesting; their drama is intense; and their humanity is evident.
Much of the finale episode, titled "A No-Rough-Stuff-Type Deal," surrounds Walt and Jesse's botched plans to deliver two pounds of product to Tuco. The dealer wants the stuff bad, but because of unforeseen circumstances, the teacher and student are unable to make good on their promise.
Tuco, ever the nutjob, is not the type of person to offer second chances. He wants what he wants right away. Stall for a second and you'll likely get a bullet in the brain. Jesse knows this all too well, having been beaten to a bloody pulp in a previous episode. Walt is still learning the eccentricities of drug-dealing, and the high school chemistry teacher shows his dangerous boldness when he hands over only a small portion of what Tuco expects, but still demands the full payment and promises four pounds the following week.
Jesse, like the audience, reels at Walt's decision. What could he be thinking? This dying man apparently has a deathwish.
To cook the batch of four pounds they need to find a large amount of a chemical that is impossible to purchase. The two drug dealers decide to become robbers, and their target is a nearby warehouse. Having Walt and Jesse steal a barrel of liquid in the middle of the night is actually quite funny to watch. It's almost like experiencing an old cartoon. Will they make it? Will they get hurt? That's all folks!
On the homefront, Marie throws Skyler a baby shower and also gives her a diamond-studded tiara for the newborn. Deciding the gift is too much, Skyler takes the piece back to the jewelry store and finds out that Marie actually stole it. The store manager holds her in the backroom while he calls the police. Her only means of escape is to fake labor pains and head to her car.
Episode seven is a mostly satisfying capstone to an impressive first season. The cliffhangers are more character-based. Because of their poor choices, Jesse and Walt are fascinating bombs that are ready to explode. Will they be able to stay two steps ahead of Hank? Will Tuco eventually cross over from violent to deadly? (If the final scene of this season finale is any indication, Walt and Jesse are in for a rude awakening.)
Breaking Bad is a strange family drama. Walt, Walt Jr. and Skyler have been hijacked by outside forces: cancer, drugs, financial woes. As a team, they work great together, but they begin to buckle under the pressure of their day-to-day lives.
Watching this buckling makes for great television.
By John Soltes / Publisher / John@HollywoodSoapbox.com
Breaking Bad

AMC

Created by Vince Gilligan

Starring Bryan Cranston, Anna Gunn, Aaron Paul, Dean Norris and RJ Mitte

Rating:

Click here to purchase Breaking Bad: Season One on DVD.