'DEXTER' REVIEW: Season Four, Episode Twelve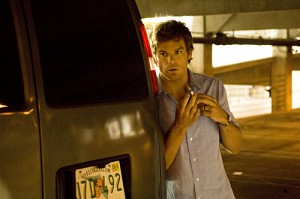 Review of "The Getaway" (04:12)
SPOILER ALERT!
This is it. The entire four season of Dexter has led to a showdown between Arthur Mitchell (John Lithgow) and Dexter Morgan (Michael C. Hall). In the season finale, titled "The Getaway," audience members get what they hoped for — and then some.
When last we left this hellbent couple, Arthur had found Dexter's true identity and paid him a visit at the precinct. Who can forget that creepy salutation: "Hello, Dexter Morgan."
In the finale, Dexter pursues Arthur out of the homicide division and into a parking garage. On his way, Dexter actually punches Quinn (Desmond Harrington), who gets in his way. This once-careful serial killer is being rather reckless and sloppy.
In an almost Kafkaesque fashion, Dexter is unable to fully capture Arthur. While in pursuit, the blood specialist takes off a parked car's mirror. The man in the car calls the police, and Dexter finds himself questioned by the authorities. This all happens after Dexter has already drugged Arthur and stored him in the van. Unable to keep his cool, Dexter is arrested and Arthur is essentially set free.
The first of the big reveals in "The Getaway" is when Debra Morgan (Jennifer Carpenter) finds out that the Ice Truck Killer (Christian Camargo) was Dexter's biological brother. Not much is done with the information, accept that the audience now realizes Debra is getting close to the real Dexter.
Quinn, freshly healed after Dexter's attack, puts two and two together and realizes that the police have the wrong suspect in mind for Trinity. Lovebirds Sgt. Angel Batista (David Zayas) and Lt. Maria LaGuerta (Lauren Velez) concur, and the investigation continues.
Events converge at Arthur's house, where Dexter is visiting Trinity's family while the police show up. Rather than slipping away unnoticed, Dexter is forced to play game and start looking for evidence. (Dear readers: This is the time when you hang up your hat of reason and put on your hat of exaggeration. It's very unlikely Trinity's family, which knows Dexter as Kyle Butler, will be able to keep quiet in the presence of homicide detectives, all of whom know Dexter as Dexter Morgan. This is the largest hole in this series to date.)
The climax of this very climatic episode is when Dexter catches up to Trinity and dispenses some long-deserved vengeance (remember, this is Dexter, there is no justice). As the credits are ready to roll, we say goodbye to Lithgow's character, which has entertained and horrified us for the entire fourth season. Of the "season characters" on Dexter, he is the best, mostly because he is the worst.
When all is said and done, it appears that the Showtime series is ready to turn off the lights and head into season five. However, there is one more big reveal, and this one is a doozy.
When Dexter goes home, he's supposed to find an empty house — Rita (Julie Benz) was supposed to have headed down to the Florida Keys, while the kids are in Disney World with their paternal grandparents. However, two people are in Dexter's house.
Shockingly and sadly, Rita is in the bathtub, filled to the brim with her own blood. Trinity found her and killed her. His final message to Dexter is to leave their newborn sitting on the bathroom's tiled floor, covered in Rita's blood. Just like Dexter himself, the baby is reborn, this time with a dark passenger by his side.
Confession: I never liked the Rita character on Dexter. Benz was never able to sell the part and make the role interesting enough to warrant so many side storylines. It makes sense that Dexter would have a love interest, but after a while, the character developed into a whiny woman who always wanted to "talk" and "get closer" to Dexter. It felt like misinformed men were writing a woman's story arc, forcing her to say weepy, soft words that never broadened her character.
Now, after seeing Rita in the bathtub, it's difficult not to feel upset. Despite her faults as a compelling character, there is no denying that Benz played her as a sweet, innocent woman who strove for independence and self-respect. I still don't like the character, but now I can appreciate her. Sad to say, it took a gruesome murder to realize this.
I'll reserve my thoughts about the insanity of this season finale for future reviews. As a tribute to Rita, it's probably best not to discuss the unbelievable craziness that surrounds Dexter Morgan and his family. It has gotten to the point where even an average person should realize something is up. In a matter of a few seasons, Debra has seen her serial-killing fiance murdered. She has seen her next lover, Frank Lundy (Keith Carradine), shot in front of her eyes. Dexter's wife has been killed, plus his best friend (Jimmy Smits' Miguel from season three) and Narcotics Anonymous sponsor (Jaime Murray's Lila West from season two) were both dispatched.
The one person who suspected Dexter of malfeasance is also dead: James Doakes, portrayed by Erik King.
How many more clues do these detectives need?
But, alas, let's focus on Rita. It's her time in the spotlight. Rest in peace.
By John Soltes / Publisher / John@HollywoodSoapbox.com
Dexter

Showtime

Starring Michael C. Hall, Jennifer Carpenter, John Lithgow, C.S. Lee, Desmond Harrington, Lauren Vélez, Julie Benz and David Zayas


Rating:


Click here to read a review of Dexter: Season One.

Click here to read a review of Dexter: Season Two.

Click here to read a review of Dexter: Season Three.

Click here to purchase Dexter: Season Four on DVD.