'BREAKING BAD' REVIEW: Season One, Episode Six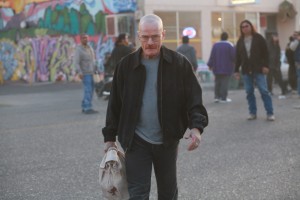 Review of "Crazy Handful of Nothin'" (01:06)
SPOILER ALERT!
Episode six of Breaking Bad's inaugural season introduces a character who is the definition of frightening. Tuco Salamanca is brought to life by Raymond Cruz with a performance that is scary and intense. It's one of the strongest guest-starring roles I've seen in years.
Walt (Bryan Cranston) and Jesse (Aaron Paul) start cooking again as if all is right with the world. As usual, Walt produces high-quality crystal meth that most users only dream about. Jesse, the man tasked with the sales end of the operation, still has difficulty moving the product on the streets. When he brings back a paltry sum for the first batch, Walt wants answers.
The problem is plain and simple: Tuco runs the crystal meth racket in the local area, and he's not budging. After instigation from Walt, Jesse stupidly confronts Tuco at his secret compound and the results are violent: Pinkman finds himself in the hospital, nursing a near-fatal beatdown. Tuco apparently is not to be messed with — although Walt, disguising his name, will give it a shot.
While this is happening, Hank Schrader (Dean Norris), Walt's brother-in-law, begins investigating the gas mask that was found out in the desert in a previous episode. It takes no time at all for the seasoned DEA agent to trace it back to Walt's high school lab. Rather than confessing his part in the drug ring, Walt watches as a janitor is unfairly accused of stealing the equipment.
It has to be difficult to be Walt. Think about it: This man is dying of lung cancer. He has little money. He needs to constantly lie to his family. He needs to play house with a degenerate druggie he used to teach in school. His friends are all successful chemists at big corporations. His brother-in-law is hot on his tail, and now a pissed-off drug lord stands in the way of his profits. Sounds like a sorry man in a set of impossible situations. If it weren't for Walt's pragamatic mind, he wouldn't be able to wake up in the morning. But somehow the character deals with the onslaught of problems. This is a man who tries to take one step at a time.
Cranston's performance has been heralded by critics and rightfully awarded with trophies from several organizations. It begs repeating that this actor, best known for his work on Malcolm in the Middle, creates a character with limitless depth. Watching Walt is like peering at an inkblot: It's always interesting and always surprising. Just when I think he's going in one direction, the character pivots and does an about-face. Kudos to series creator Vince Gilligan for drawing the outline, and similar kudos to Cranston for breathing life into this conflicted man.
Thankfully, with "Crazy Handful of Nothin'," Walt now has an archenemy worthy of his magnificence. Tuco, who is prone to violent outbursts, is what non-druggies fear will happen to them if they walk in the wrong part of town. He's a crazed character who doesn't offer second chances, a man who seems to play Russian roulette nightly. But, of course, he has one fatal flaw. Tuco not only wants to sell the crystal meth that Walt cooks up, but he wants to enjoy it himself.
By John Soltes / Publisher / John@HollywoodSoapbox.com
Breaking Bad

AMC

Created by Vince Gilligan

Starring Bryan Cranston, Anna Gunn, Aaron Paul, Dean Norris and RJ Mitte

Rating:

Click here to purchase Breaking Bad: Season One on DVD.