'BREAKING BAD' REVIEW: Season One, Episode Five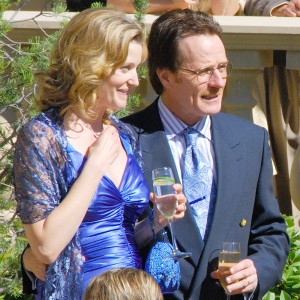 Review of "Gray Matter" (01:05)
SPOILER ALERT!
Breaking Bad's fifth episode finds Walt (Bryan Cranston) and Jesse (Aaron Paul) split apart — seemingly forever.
Jesse tries to put his life back together by getting a proper job. He quickly finds out that: A) there aren't too many jobs out there for ex-drug dealers, and B) the ones that are available pay pennies compared to his crystal-meth past. Much like the episode where Jesse goes home to his parents and kid brother, Breaking Bad shows that this young guy is a sad case. Walt is an older man facing death; Jesse is a younger man who has faced death his entire life.
Meanwhile, Walt and Skyler (Anna Gunn) head to a birthday party thrown for Walt's former college buddy, Elliott Schwartz (Adam Godley). A few interesting things occur: First, it appears that Walt and Elliott's wife, Gretchen (Jessica Hecht), had a thing going on a few years ago. Secondly, Elliott has done well for himself. He lives in an enormous mansion with sprawling gardens and a beautiful pool.
Breaking Bad sets up Elliott as the anti-Walt. One became a rich chemist, while the other became a high school chemistry teacher. One is living life to the fullest, while the other is dying of lung cancer.
What Walt doesn't know is that Skyler has reached out to Elliott, telling him about her husband's terminal cancer. Rather than offering the usual condolences, Elliott offers Walt a prestigious job at his company, a job that would more than pay for the upcoming medical bills. Shocked by the gratitude, Walt puts on a smile and later tells his wife that he will not accept the money and would rather die.
While this all happens, Walt Jr. (RJ Mitte) is busted for trying to buy a six-pack of beer at a local convenience store. He calls his uncle, Hank (Dean Norris), to get him out of trouble. The DEA agent is upset, but understanding.
To finally connect with Walt, the family decides to stage an intervention, with the hopes that he will seek treatment.
Not enough credit is given to series creator Vince Gilligan. He has crafted a thoughtful show that works at a methodical pace. There are few fireworks in Breaking Bad, but that doesn't mean the action is dull or plot-less. It just means that greater hands are at work. These characters move through their lives without too many typical "television moments."
For example, it feels right that Jesse and Walt would take a break from each other. Their first batch of crystal meth ended in complete failure. Men died; they were both almost caught; and for the money they snagged, it probably wasn't worth the time or the danger. Therefore, what does a chemistry teacher with cancer do? Well, he breaks ties and heads home. What does a former drug dealer do? He tries to pick up the pieces of his broken life and get a job.
I hesitate to call Breaking Bad realistic. There is a sense of intensity to the show that is exaggerated. However, there is no denying that these characters, which are the best part of the AMC original series, pulse with strengths and weaknesses. It's a balancing act for each and every one of them. Will their weaknesses take over, or will their strengths hold out?
By John Soltes / Publisher / John@HollywoodSoapbox.com
Breaking Bad

AMC

Created by Vince Gilligan

Starring Bryan Cranston, Anna Gunn, Aaron Paul, Dean Norris and RJ Mitte

Rating:

Click here to purchase Breaking Bad: Season One on DVD.