REVIEW: Meet Ned, 'Our Idiot Brother'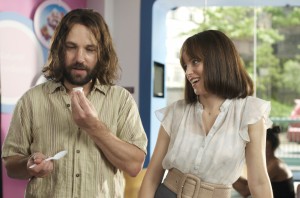 The new comedy, Our Idiot Brother, has one of the most misleading titles of the summer. One would think that Paul Rudd's character is a true idiot, a man with a low I.Q. or maybe a bad personality.
In actuality, Ned is the most likable brother a sister could ask for. He's incapable of doing wrong. He doesn't lie, cheat or steal. He stresses organic living, befriends anyone he strikes up a conversation with and generally ambles around life with a smile and an offertory hug.
Sure, he is gullible to a fault; he speaks his mind, which often gets him into trouble; he's so trusting that he even sells marijuana to a uniformed police officer; and the love of his life is a dog named Willie Nelson. But, come on, this guy is no idiot.
Our Idiot Brother is a genuine late-summer surprise. Rudd, sporting a scraggly beard and long hair, transforms himself into this character, making the audience fall in love with his antics. In some ways, he's a modern-day Mr. Magoo, a character that gets into a lot of trouble, but never intends to harm anyone.
His three sisters are played by Emily Mortimer, Elizabeth Banks and Zooey Deschanel. They, too, are generally nice people, though each of them struggle with a particular character fault. The marriage between Liz (Mortimer) and Dylan (a very funny Steve Coogan) is falling apart thanks to Dylan's infidelity with a ballet dancer. Miranda (Banks) can't seem to earn the praise of the editors at Vanity Fair, where she desperately wants a writing job. Natalie (Deschanel) has been unfaithful with her partner, Cindy (Rashida Jones), with a mutual male friend (Hugh Dancy).
When Ned is released from jail and finds that his old girlfriend (Kathryn Hahn) has moved on and taken his dog, the former organic farmer needs to lean on his three sisters for a little help. Though they provide the shelter and food, Ned provides the wisdom and fun. At first, they are all put off by his seemingly childish ways. This is a man who yearns for games of charades and uses meetings with his parole officer as helpful therapy sessions.
But in time, his sisters come around to see the genuine good nature of their dear brother.
Director Jesse Peretz, working off a clever screenplay by David Schisgall and Evgenia Peretz, keeps everything in the movie light and airy. Yet underneath the veneer is a real character study in human emotions. Like Pier Paolo Pasolini's Teorema, Ned proves to be a guy sent from heaven to shake up the lives of the people he cares for the most.
Rudd plays the part with a benevolent nicety. He's a genuine guy, and he makes you think: "I know someone just like that."
Deschanel is the best of the three sisters, mostly because her story seems believable. Banks has to deal with a rather unrealistic journalism job, while Mortimer and Coogan play fairly stereotypical "parents with family issues." (Mortimer hides her British accent, while Coogan keeps his.)
The comedy has several funny jokes, but they never dumb down the proceedings. There's one sequence where Ned finds himself an unlikely partner in a threesome, but other than that exaggeration, the movie is a string of humorous conversations about family, dogs and the difficulties of living.
Our Idiot Brother is one of the better comedies of 2011.
By John Soltes / Publisher / John@HollywoodSoapbox.com
Our Idiot Brother

Directed by Jesse Peretz

Written by David Schisgall and Evgenia Peretz

Starring Paul Rudd, Elizabeth Banks, Emily Mortimer, Zooey Deschanel, Steve Coogan, Kathryn Hahn, Shirley Knight, Rashida Jones and Hugh Dancy

Running time: 90 minutes

Rated R for sexual content including nudity, and for language throughout

Rating:

Click here to purchase Our Idiot Brother on DVD.