'IRON CROWS' REVIEW: Building lives by breaking ships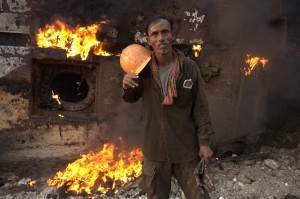 Iron Crows, the extraordinarily moving documentary from director Bong-Nam Park, is as visceral as they come. Detailing the often harrowing circumstances of Bangladeshi men and boys who dismantle large, retired ships, the film is an uncomfortable look at an economy based on pennies and sweat.
What Park's camera is able to capture is baffling, mostly because it's so human. Working on these gargantuan iron monsters is a motley crew of workers devoted to supporting their families. They risk their lives almost every single day just so they can claim their hard-earned pittance at the end of the week.
The physical exertion of their workload is beautifully displayed in all its flexed fury. Men who have been working for decades on the ship stand next to children not old enough to be considered teenagers. Young and old both work diligently to rob the ships of their wholeness, forcibly moving sludge, cutting through iron and ordealing in conditions no human should have to face.
Injuries are likely; death, not out of the question.
Because of the drama inherent in the profession, Iron Crows is a sad picture to experience. The price of admission alone adds up to many hours of wages for these Bangladeshi workers.
There is heartache and strained muscles. There is despair and disbelief. There are few respites and no disposable income on the horizon.
Yet Park doesn't victimize his subjects, and the audience somehow leaves with a sense of inspiration. Iron Crows focuses on reality, by painting a portrait and letting the images come to life. It wills us to look closer, instigating the audience to learn something from these men. Finding the differences is easy; finding the similarities is not too difficult either.
The resulting footage is a testament to the drive of these workers. They are wearied, but refusing to fall. I caution to use the word uplifting, but there is a definite sense of accomplishment for these overworked laborers.
Although there are some 20,000 workers in the ship-breaking industry, the film focuses on a handful of characters, following their difficulties and rewarding personalities through many days of work. Although they currently call the city of Chittagong home, most of these men travel from faraway rural towns to earn their living. Leaving behind wives, parents and newly-born children, the workers sacrifice both their bodies and their hearts for the economical opportunities in the port city.
One young man speaks proudly of his beautiful wife who he adores despite the fact that she gave him no dowry. What troubles him more than his financial status is his infant child, who was born blind while he worked hundreds of miles away breaking apart ships. He fears that the environmental hazards of his profession have caused the blindness.
Another face we come to know is a young child who has the bravery of an ox and the smile of a champion. Even though he's hardly a man, the boy works shoulder to shoulder with his colleagues, learning their ways and offering his enthusiasm to the task at hand. He is an innocent whose childhood has been taken away. But one would never know his discomfort by watching him talk about his newfound friends. Combing his hair every morning and getting ready to head toward the port, the newcomer values the chance to earn money for his family.
Park works through all of the emotions that are present for the workers, many of whom are Muslim. He casts them as kind souls in unfortunate circumstances; they are fathers and brothers, sons and citizens.
And although the industrial wasteland in Chittagong seems to ooze with looming disaster and hazardous side effects, Park finds an unlikely beauty in the surroundings. He sees the art in what this industry offers, linking the work of these men to the greater human condition. Never inundating the viewer with talking heads or silly statistics, the director is content with turning on the camera, showing the reality and letting the viewer decide what to do next.
It's a haunting challenge.
By John Soltes / Publisher / John@HollywoodSoapbox.com