'ALPHAS' REVIEW: Season One, Episode Six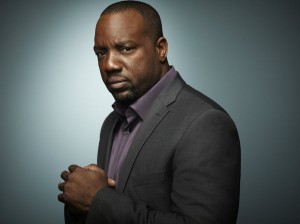 Review of "Bill and Gary's Excellent Adventure" (01:06)
SPOILER ALERT!
The sixth episode of the inaugural season of Alphas on the Syfy Network is one of the show's best. Rather than following the usual pattern of having the team of super-humans track a fellow super-human, "Bill and Gary's Excellent Adventure" actually gets into some real police work. Also, the most underdeveloped character in the series — Bill Harken, played by an increasingly likable Malik Yoba — finally gets a story arc where we learn a little bit about his past.
The episode begins with the kidnapping of Lisa Collier (Melissa Hood) by a team of criminals. The Alphas are brought into her case by pure coincidence when Gary Bell (Ryan Cartwright) is arrested for illegal parking. When Bill arrives at the police station to get Gary off the hook, he overhears an FBI agent talking about the kidnapping. When Gary says he can help find the girl, the two Alphas become unlikely crime-stopping partners.
We also find out Bill was let go from the Bureau, but he may be able to use the kidnapping case as a chance to get his old position back.
While Bill and Gary track the kidnappers, Nina Theroux (Laura Mennell) and Cameron Hicks (Warren Christie) get to know one another a little more intimately. Besides the inevitable kiss between the two, Nina also shares some personal information: In a moment of frustration, she told her last boyfriend to kill himself; because she has the power to control minds, he did just that. Now Detective Kellerman (Richard Quesnel) is knocking on Nina's door, forcing the Alpha to "push" him away with her ability so he doesn't find out the truth.
Back on the pursuit of the kidnappers, Gary and Bill fall into an intense altercation in a bar. A near-deadly shootout leaves Gary bruised and both of them arrested for obstructing justice. It looks like Bill's dreams of rejoining the Bureau are finished. They've bungled the investigation.
Realizing the kidnapping could quickly become an issue of homicide, Bill and Gary skirt around the jurisdiction of the FBI and employ the help of their trustworthy team. Apparently, there's strength in numbers, and it takes only a few scenes for the Alphas to realize there is a traitor working on the case. One critique is that the resolution to the episode comes fast and furiously, almost to the point where it seems like the writers ran out of time.
When Lisa is found safe and secure, Bill is given the chance to leave Dr. Lee Rosen's team. But after realizing what an asset his super-human colleagues are, the strong man decides to stay put and help the Alphas.
The Syfy series was in need of an episode that explored Bill's character. Too often, he was relegated to one-liners and convenient plot points. Much credit should be given to show creators Zak Penn and Michael Karnow; they have created a first season that smartly goes from character to character, continually digging around for their back-stories, personalities and feelings toward their fellow Alphas. Once each character is given his or her time in the spotlight, the series can settle in on the larger goals: Helping other Alphas, stopping Red Flag and figuring out what's going on at the Binghamton facility.
Interestingly, Rosen (David Strathairn) takes a backseat in "Bill and Gary's Excellent Adventure." Except for a few scenes, the team leader is nowhere to be found. Although I enjoy Rosen and believe him to be a vital part of the show, it's nice to take a break from his fatherly presence. Bill and Gary needed to grow together as friends, and Bill needed to realize his importance on the team. Having Rosen there to offer his Yoda-like advice could have muddied the waters.
By John Soltes / Publisher / John@HollywoodSoapbox.com
Alphas

Syfy, Mondays at 10 p.m.

Created by Zak Penn and Michael Karnow

Starring David Strathairn, Ryan Cartwright, Warren Christie, Azita Ghanizada, Laura Mennell, Malik Yoba and Jane Moffat


Rating:


Click here for more information.