'The Dead and the Damned' is like 'Cowboys & Zombies'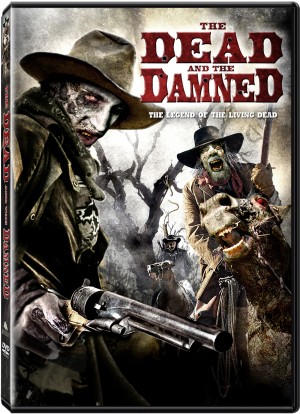 After this summer's disappointing Cowboys & Aliens, I had high hopes for The Dead and the Damned, a Western flick featuring undead, flesh-eating gunfighters. Unfortunately, the results in this independent film are middling at best.
Mortimer (David A. Lockhart) is a high plains drifter who scours the West looking for wanted men so he can turn them in and collect the bounty. His arch-enemy is an Indian warrior known as Brother Wolf (Rick Mora). To bait his opponent, Mortimer kidnaps Rhiannon (Camille Montgomery), a beautiful local girl, and ties her up in the middle of a meadow. Apparently the warrior likes blond girls who can't run away?
As this three-person tango is taking place, all hell has broken loose in the local town. A strange meteorite, which reminded me of The Lonesome Death of Jordy Verrill from Creepshow, begins to glow in the dark and release toxins into the air. When the contagion affects the townsfolk, they are resurrected as sickly zombies hellbent on eating flesh.
Now it's up to Mortimer, Brother Wolf and Rhiannon to join forces and face off against the living undead.
There's some material to appreciate in The Dead and the Damned, which has also been known as Cowboys & Zombies. The makeup work on the zombies is particularly gruesome and believable. Their mangled faces look like they have been scorched by a fiery inferno. There are also some genuine jump-out-of-your-seat moments, especially in the final act of the film when the three leads take on the pesky zombies.
Where the 85-minute feature falls apart is with the poor acting. The main characters are never able to convince the audience that they're actually drifters in the Old West. Instead, their line deliveries make for awkward pauses and unfulfilled character portrayals. If the screenplay by Rene Perez and Barry Massoni would have strayed more toward the obvious comedic elements in the story, The Dead and the Damned could have served as a clever homage to the films of John Wayne and Clint Eastwood.
If you don't expect much from the undead thriller, then there's a certain level of enjoyment that can be attained. Like any horror film, it features a couple scares, gratuitous nudity and a semi-engaging plot. For those who don't get excited over cowboys or zombies, it's best to steer clear.
By John Soltes / Publisher / John@HollywoodSoapbox.com