In the acting department, 'Sanctum' takes a dive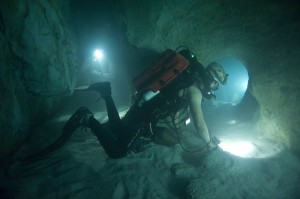 Film directors are increasingly getting into the business of lending their names to projects they don't direct. Usually the name appears in a bold font above the title: "Film Director Presents…" It can be quite confusing for audiences who don't understand that the filmmaker is simply offering a stamp of approval.
Quentin Tarantino, Gullermo del Toro and now James Cameron have all taken advantage of the celebratory advertising tool. For Cameron, his stamp of approval should be rescinded.
Sanctum features impressive visuals and dynamite camerawork (likely the reason Cameron was involved), but the acting is woefully sub-par and ruins what could have been an entertaining film.
Frank (Richard Roxburgh, the only actor of the bunch who is believable) and his son Josh (Rhys Wakefield) are not exactly on speaking terms. Frank is a veteran cave diver who is stationed in the South Pacific, exploring uncharted territories in a vast network of underground tunnels. His son is a skilled rock climber, but hasn't applied himself in life and thus has constant run-ins with his father.
While exploring the far reaches of the caves known as Esa-ala, Frank, Josh and a team of divers get stuck beneath the surface as a treacherous storm floods the ground up above. Their only escape is to dive deeper into the cave and find what no man has found before: an exit to the nearby ocean.
Sanctum, although it's based on a true story, plays very much like a horror film. Every few minutes a new character becomes a victim of the elements. Because of the poor acting from just about every cast member, the losses don't register as emotionally as they should.
Roxburgh does an admirable job as the grizzled man who becomes the designated leader of the pack. The actor, best known for his roles in Van Helsing and Moulin Rouge!, finds the right balance between petulant father and adventurous loner.
Wakefield is in over his head. The character of Josh is a critical addition to the film; patching together his broken relationship with Frank is as important as their actual survival techniques. Unfortunately, Wakefield can't keep up with Roxburgh's obvious talents. Too often he sounds like an annoying child at a candy store. He doesn't act the part; he simply says his lines and then goes swimming in the water.
Ioan Gruffudd as Carl, the financier behind the cave-diving expedition, fares even worse. The cheesy lines that he's forced to say are cringe-worthy. Sanctum would have been a better documentary than dramatic film. The actors can't compete with their beautiful surroundings.
Director Alister Grierson, working off a script by John Garvin and Andrew Wight, is able to achieve some suspenseful scenes where the dive team is met with seemingly impossible situations. But his efforts are moot. A movie can only be as good as its acting, and Sanctum takes a dive in that department.
The camerawork, which Cameron is sure to have influenced, is still impressive throughout the 108-minute feature. The underwater environment of the cave system comes to life with a majestic purity that is beautifully effective. It saves the film from being a complete bore.
One also has to wonder how much of this story is true. There is no postscript saying who the real people might be, and because of the nature of the events depicted in the film, it's hard to believe that any screenwriter could piece together what actually happened down in the caves. The "true story" element is as believable as the acting.
By John Soltes / Publisher / John@HollywoodSoapbox.com
Sanctum

2011

Directed by Alister Grierson

Written by John Garvin and Andrew Wight

Starring Richard Roxburgh, Ioan Gruffudd and Rhys Wakefield

Running time: 108 minutes

Rated R for language, some violence and disturbing images

Rating:

Click here to purchase Sanctum on DVD.