REVIEW: Hallmark Channel's 'Citizen Jane' comes to DVD, Aug. 23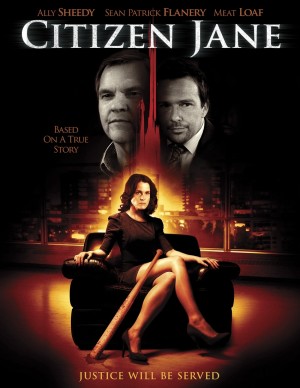 The true story of Jane Alexander and the unfortunate circumstances surrounding the murder of her aunt seem ready-made for the television screen. Although the facts of the case are troubling and gruesome, the details are compelling and dramatic.
Perhaps that's why the failings of Citizen Jane, a recent Hallmark Channel film that arrives on DVD Tuesday, Aug. 23, are so evident. The 86-minute movie feels more like a bloated episode of Criminal Minds or Law & Order than a fascinating story about the brave woman who founded Citizens Against Homicide.
Ally Sheedy, perhaps best known for her early career turns in Short Circuit and The Breakfast Club, plays Jane as a strong-willed woman with the initial inability to see that the man in her life is hiding something dark and mysterious. That person is Tom O'Donnell (Sean Patrick Flanery of The Boondock Saints), Jane's lover and the person who willfully charts their financial future.
When Jane's beloved aunt (Patty McCormack) is found murdered in her San Jose home, the police start looking at the usual suspects: handymen, gardeners, neighbors. When those leads fizzle out, all signs seem to point to Jane and Tom, the two people who would have benefited financially from the murder.
At first, Jane is horrified that Detective Jack Morris (Meat Loaf) starts looking into her life. But soon enough the tea leaves all align and Jane realizes that Tom isn't exactly a stand-up gentleman.
Although much of the film, which was directed by Armand Mastroianni, is a paint-by-numbers murder mystery, it should be noted that the events depicted in Citizen Jane are not some fabrication from a clever screenwriter. Jane Alexander was a real person whose case involving her aunt's murder led to continued activism work and the founding of Citizens Against Homicide, a nonprofit organization that helps the family and friends of homicide victims.
Much of this real-life passion and drama fails to register in Citizen Jane. Sheedy is unable to convey the necessary emotional range to convince the audience that the murder has deeply affected her life. It's difficult to come down too hard on the actress because the script is fairly wooden, featuring typical police banter and courtroom scenes that are overwrought with cliché. One can tell that Sheedy has the obvious talents to showcase, but with a poorly written part, she becomes a victim of the script.
Flanery and Meat Loaf fare much better in their respective roles. The Boondock Saints alum carries himself with a charismatic swagger, but he restrains the portrayal so his personality comes off more as kind than killer. Perhaps it's the highest compliment that can be paid to Flanery: If I were Jane (at least Hallmark Channel Jane), I would have been fooled by Tom's hidden cunning as well.
Meat Loaf could have made his detective role a flashy creation of typical police attributes. Instead, the singer-turned-actor keeps his voice low, his line delivery soft and his actions minimal. Detective Jack Morris is more of a thinker, one who ruminates about the murder and the murderer. It's a fine performance in a sub-par film.
The one quality that Citizen Jane is able to boast is that the film gives a definite appreciation for the real-life Jane Alexander, who died right before production began on the Hallmark Channel drama. Even under the guise of a cheesy made-for-television movie, it's difficult not to feel sorry for Jane's loss and not to feel moved by her citizen activism. As to be expected, the woman proves to be more inspiring than the movie that introduces her to millions of viewers.
By John Soltes / Publisher / John@HollywoodSoapbox.com
Citizen Jane

2009

Hallmark Channel Original Movie

Teleplay by James Dalessandro, based on his book

Directed by Armand Mastroianni

Starring Ally Sheedy, Meat Loaf, Sean Patrick Flanery, Patty McCormack and Nia Peeples

Running time: 86 minutes

Not rated

Rating:

Click here to purchase Citizen Jane on DVD.

Click here to purchase Citizen Jane: A True Story of Mony, Murder and One Woman's Mission to Put a Killer Behind Bars by James Dalessandro with David Mehnert