David Hyde Pierce gives the performance of the year in 'The Perfect Host'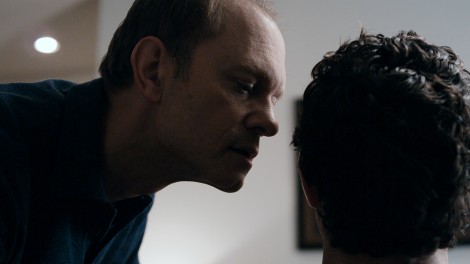 There are many attributes to appreciate in Nick Tomnay's slick new thriller, The Perfect Host. From the clever plot to the methodical, almost Hitchcockian pacing, the film is an expertly-rendered modern mystery, a cinematic testament to the still-thriving potential of celluloid.
However, the deserved center of all praise must begin and end with David Hyde Pierce's chilling performance as the dinner-party host from hell. There is so much nuance and crazed brilliance behind his portrayal that it's not overstretching to say the actor has given the performance of the year so far. From sly to slimy, the acting is memorable.
To describe the convoluted plot of The Perfect Host would be a sin to any viewer who hasn't experienced its thrilling twists and turns. The simplest premise will suffice: Clayne Crawford plays John Taylor, a man who has just robbed a bank to the tune of $300,000. Amidst the ordeal, the criminal busts his foot and is in need of some immediate medical attention.
After failing to gain entry into one quiet house in a tony neighborhood, Taylor stumbles upon the pleasant abode of Warwick Wilson (Hyde Pierce), a lonely man cooking duck in his oven and awaiting guests for a dinner party.
Once the pleasantries are finished, what Taylor finds in Wilson's house is much more frightening than he could ever imagine. Who is the bad guy in this scenario?
To continue with the plot would be criminal itself. Rest assured, the story achieves a marvelous catharsis that is difficult to predict. The character of Warwick Wilson is a cinematic original; he's a unique man with a penchant for dark humor and darker deeds. It's difficult to take one's eyes off him.
Tomnay, who directed the 93-minute film and co-wrote the screenplay with Krishan Jones, has all of the action play out so organically that it feels as if one were watching a period-piece drama, a la the great ensemble pieces by Robert Altman. There are no cheap tricks with flashy special effects or suspenseful moments that arrive unearned.
The entire story is based on characterization and the tête-à-tête between Taylor and Wilson. They play verbal, and sometimes physical, chess matches against each other. Heck, they throw out all pretense and play actual chess at one point. Their back-and-forth struggle is almost theatrical, reminding viewers of Hitchcock's Rope.
The personality of the film is finely balanced between comedy and drama. At times, it's difficult to tell whether one should laugh or be reviled. Hyde Pierce understands this unique dichotomy and exploits it to the fullest effect. Crawford does a nice job as well, playing a hardened, misunderstood man.
But the host owns the party.
With a lesser actor than Hyde Pierce, much of the movie could fall apart. Upon closer inspection, The Perfect Host may feel overwrought and impermissibly zany. But with such a fine actor at the reins, the movie is in good hands from beginning to end, or soup to nuts, as it were.
By John Soltes / Publisher / John@HollywoodSoapbox.com
The Perfect Host

2011

Directed by Nick Tomnay

Written by Tomnay and Krishna Jones

Running time: 93 minutes

Rated R for language, some violent content and brief sexual material

Rating:

DVD bonuses include a making-of feature with Tomnay, an HDNET look at The Perfect Host and trailer.

Click here to purchase The Perfect Host on DVD.