'THE REAL HOUSEWIVES OF NJ' RECAP: Ashley, Ashley, Ashley!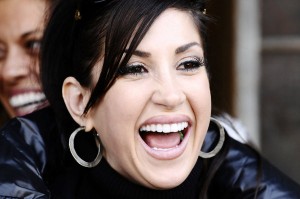 On this week's episode of The Real Housewives of New Jersey, Teresa Giudice attempts to have a photo shoot with her entire family for her new cookbook, Fabulicious!. Having four children wears Teresa's patience thin while they moan and complain at the demands of the photographers. Fabulicious! is in bookstores now, but I must admit, knowing that the photos were staged, takes away from the fact that they looked like candid shots of her family around the dinner table. Sometimes reality TV has the ability to show too much.
The rival sister-in-laws are all about business this week. Melissa Gorga,who lives in a sprawling mansion, gets what she always wanted … a recording studio to launch her singing career. Her husband, Joe Gorga, gets what he always wanted … his wife under his thumb at all times, and hence the reason he built an in-home studio in their basement.
During her first recording session, Joe watches Melissa and yells less-than-motivating sexual advances while she tries to perform. Joe is pleased with the hard work he spent building this state-of-the-art recording studio, but in return he demands that Melissa remain serious about her aspiring career. I am sure he will keep a close eye to make sure she does.
It is all about Ashley this episode!
Ashley Holmes, who is Jacqueline Laurita's unruly daughter from a previous marriage, monopolizes this episode. The family travels to a Hoboken hop spot, The Wicked Wolf, where Chris Manzo is bartending to surprise Ashley with her father who lives out of state. The reason for this unexpected rendezvous is to have an "intervention" with Ashley and get her to stop her 20-year-old partying ways.
The actual "intervention" takes place at an upscale NYC brunch spot. The strange part is that Ashley's parents feast on Bloody Marys just prior to telling their daughter that she goes out and parties too much.They probably could have stuck to coffee or tea during the intervention.
Ashley's complete disrespect for her mother escalates when she alleges that she is more responsible than Jacqueline because she didn't get pregnant yet.
This insult becomes too much for Jacqueline to handle, and she explodes in anger, causing other restaurant patrons to turn and stare. Jacqueline is left in hysterics in the basement of the restaurant while Ashley's father tries to talk some sense into his daughter.
Will Jacqueline be able to reconcile with Ashley after telling her to move out of her house? Will Ashley be able to show her mother she cares after throwing it in her face that she had a child at a young age? Stay tuned till next week to see what happens.
By Bear Adams / TV Columnist / Bear@HollywoodSoapbox.com
The Real Housewives of New Jersey

Bravo, Mondays at 10 p.m.

Click here for more information.