REPORT: Trekkies invade Las Vegas for 'Star Trek' con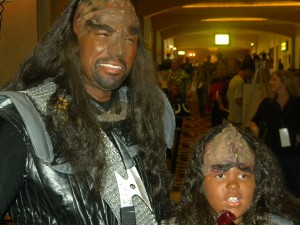 LAS VEGAS — They came from far and wide. They came from all countries, all generations, all backgrounds. Some wore jeans. Some wore shorts. Some wore ridged foreheads and long brown wigs. Some wore masks, while others glowed in the dark. Many of them, including a few dogs, wore uniforms.
They were all united under their shared desire to live long and prosper.
Thousands of Star Trek fans, lovingly known as Trekkies or Trekkers, descended on the Rio All-Suite Hotel & Casino in Las Vegas from Thursday Aug, 11 through Sunday, Aug. 14. The fan-boys and fan-girls were there for the Official Star Trek Convention from Creation Entertainment. This year marks the 45th anniversary of Star Trek: The Original Series, and there was no shortage of highlights throughout the four-day event.
Numerous celebrities showed up for the convention and the thousands of fans seeking autographs and photo ops.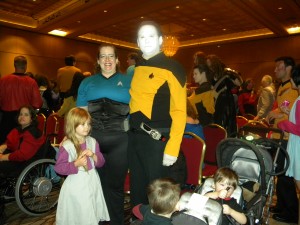 Dominic Keating and Connor Trinneer of Star Trek: Enterprise laughed it up on stage on Thursday, as well as Garrett Wang of Star Trek: Voyager. Wang was on hand throughout the convention, signing autographs and selling his colorful Star Trek T-shirts in the vendors room. For classic TV fans, Thursday's panel discussion featuring Lee Meriwether, Clint Howard and Yvonne Craig, all guest stars on The Original Series, was a definite highlight.
In addition to the main auditorium at the Rio, the convention spilled out into a secondary hall, known as the DeForest Kelley Theatre, and an enormous vendors room featuring rare collectibles, 8×10 glossy photos, clothing options and more celebrities greeting fans. Richard Hatch of Battlestar Galactica fame shook hands, as well as the legendary Richard Kiel from The Twilight Zone, Moonraker and Happy Gilmore. Scribbles from each actor set convention-goers back $30.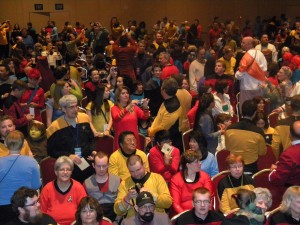 Prior to the four-day event, Creation had sold out three of its premium weekend packages, meaning the crowds came in droves. At its height, there were estimates that more than 4,000 people were congregated together in the main auditorium.
Friday's programming included appearances by Walter Koenig and several actors from Star Trek: Deep Space Nine, including Nana Visitor, Rene Auberjonois, Casey Biggs, Max Grodenchik, Jeffrey Combs, Nicole de Boer and Chase Masterson. Koenig talked about various topics, everything from his relationships with fellow cast members to his iconic Russian accent.
Jonathan Frakes from Star Trek: The Next Generation took questions from the audience. Though, rather than staying up on the stage, the actor decided to walk among the hundreds of people in the audience, offering handshakes and quite a few laughs.
For entertainment, the Star Trek Rat Pack, featuring Combs, Grodenchik, Biggs, Vaughn Armstrong and Armin Shimerman, delighted with their catchy tunes and clever lyrics. Auberjonois and Visitor also presented their spoken-word piece, Cross Our Heart.
Hundreds of people lined up for autographs throughout the weekend. The prices ranged from $20 to $90 for the big three: Patrick Stewart, William Shatner and Leonard Nimoy. Despite the sometimes steep asking prices, the autograph tickets flew off the shelves. Stewart and Shatner each signed more than 600 items for the fans.
Several attendees also paid $99 for celebrity breakfasts with the talent on hand.
Saturday saw Leonard Nimoy's second-to-last convention appearance. After Creation Entertainment's upcoming Chicago convention, Nimoy is retiring from the public spotlight. For Mr. Spock's appearance in Las Vegas, the auditorium was packed to the gills. The actor rightfully received a standing ovation when he came on stage.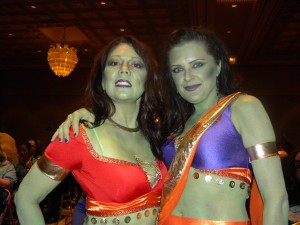 Nimoy talked mostly about his career as an aspiring actor and how he traveled from Boston to Hollywood at a young age. He had fond memories of his time on Star Trek: The Original Series and the subsequent films. A large portion of his talk was devoted to his love for photography and some of his latest projects.
He finished with a heartfelt thank you to Star Trek fans. Fighting back tears, the actor expressed gratitude for the years of fan support for both himself and his family. Offering a Vulcan goodbye with his right hand, the man who brought Mr. Spock to life exited the stage to thunderous applause.
As to be expected, autographs and photo ops with Nimoy sold out quickly.
Other Saturday highlights included on-stage talks from Terry Farrell, who discussed her tenure on Star Trek: Deep Space Nine, Brent Spiner, Kate Mulgrew and John De Lancie. The Klingons were well represented by Gowron (Robert O'Reilly), Martok (J.G. Hertzler), Lursa (Barbara March) and B'Etor (Gwynyth Walsh). In addition to offering a few hilarious moments in costume, the four actors also plugged the upcoming Klingon Monopoly game from USAopoly.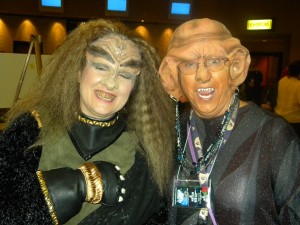 Saturday finished with a performance of Nevermore, a one-man show about Edgar Allen Poe, performed by Jeffrey Combs, and a gala concert by James Darren, perhaps best known for his roles on Gidget, The Time Tunnel and Star Trek: Deep Space Nine. Darren also took the stage on Sunday to answer questions and sign autographs. The actor unfortunately fell ill before the end of the convention and was unable to pose for photos with the audience. The only other cancellation was William Schallert, who was unable to attend.
In the secondary theater, Saturday 's programming was truly historic. More than 1,000 people showed up in full Trekkie regalia to break the Guinness World Record for most Star Trek costumes in one place. There were Starfleet captains, Borgs, Ferengi, Klingons and even a couple Tribbles. The previous record was held by Atlanta's DragonCon.
Sunday included an on-stage panel featuring three Star Trek captains: William Shatner, Patrick Stewart and Kate Mulgrew. The three joked with fans and relayed some of their favorite memories from their Star Trek days. One topic of discussion was Shatner's recent documentary, The Captains, a film in which Shatner interviews each of the actors who have portrayed a captain over the years.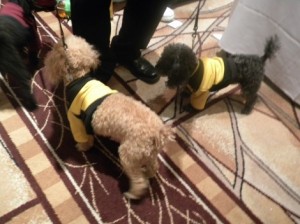 Stewart discussed his knighting by the Queen of England, while Mulgrew focused on the difficulties that many women have as professional actors.
Although Shatner took the stage on Sunday, he had actually been present at the convention for all four days. The man who defined a genre with his portrayal of Captain James T. Kirk filmed several fans throughout the week for an upcoming reality series known as Fan Addicts.
George Takei, Sulu from Star Trek: The Original Series, joined John Cho, Sulu from the 2009 Star Trek film, for the first time ever on stage. The 45th anniversary event was Cho's first convention. Both actors talked about the major influence the character of Sulu had on Asian-American actors.
The majestic Nichelle Nichols finished the convention with an on-stage appearance.
In addition to celebrating Star Trek's 45th anniversary, Creation co-founders Gary Berman and Adam Malin celebrated their own 40th anniversary as convention organizers.
The Official Star Trek Convention in Las Vegas is the largest annual event devoted to all things Star Trek. With myriad opportunities for photos with the actors, autographs, Q&A sessions and a host of collectibles in the vendors room, the event was a success — so much so that many people have already signed up for next year.
By John Soltes / Publisher / John@HollywoodSoapbox.com
Click here for more information on Creation Entertainment.

See yourself in one of our photos? E-mail John@HollywoodSoapbox.com, and we'll provide the original JPEG file for free.