REVIEW: 'The Change-Up' amps up the raunchiness factor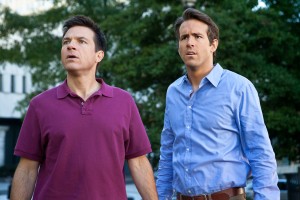 Ryan Reynolds is having a difficult summer.
His portrayal of the Green Lantern fell flat, and The Change-Up doesn't fare any better. But in this new raunchy comedy, Reynolds isn't the only one to blame. Jason Bateman, of this year's Horrible Bosses and TV's Arrested Development, must share some of the responsibility.
The movie's premise is absurd because it's been done half a dozen times before. If you've seen Lindsay Lohan in Freaky Friday, you've seen The Change-Up. If you've seen Lindsay Lohan in The Parent Trap, you've seen The Change-Up. If you've seen Jennifer Garner in 13 Going on 30, you've seen The Change-Up.
Bateman plays Dave Lockwood, a man obsessed with his corporate job. He's worked his entire life to have the perfect marriage, the perfect children and the perfect profession. He is a portrait of the company can-do attitude.
Bateman fans will recognize the character because he plays the part in many movies, including this year's vastly superior Horrible Bosses.
Reynolds plays Mitch Planko, Dave's best friend. Mitch hasn't figured out life along the same terms as Dave. He's not married, but he loves to sleep around. He doesn't have kids, but he loves to play video games. He doesn't technically have a job, except for a few acting gigs every once in awhile.
One night, after Mitch and Dave get drunk at a local bar, they decide to urinate in a fountain. (Stay with me.) While peeing, lightning strikes, and their wish of changed lives comes true: Mitch becomes Dave, while Dave becomes Mitch.
The movie continues with all the usual gags that a switch-'em comedy provides. Mitch screws up Dave's pending promotion, while Dave has difficulty loosening up to Mitch's free-wielding lifestyle.
The problem, besides the been-there-done-that plot, is that the jokes are raunchy for all the wrong reasons. Writers Jon Lucas and Scott Moore simply throw different situations at the cinematic wall and hope for a few to stick.
For example, Dave finds himself acting in a pornographic film with an older woman who has had tons of plastic surgery. Mitch finds himself at the reins of a multi-million-dollar merger. These two guys aren't living a day in the life of their best friend; they are living an unbelievable day in the life of their best friend.
One of the victims of the movie is the great Leslie Mann as Dave's wife, Jamie Lockwood. Her character serves no purpose except to be the brunt of diarrhea, sex and breast-feeding jokes. Classy entertainment this is not.
Worst of all, the movie is simply not funny. The jokes are only jokes because they are outlandishly absurd. There's no real backbone to anything.
Although both actors are playing against type, their characters are paint-by-number creations. Mitch is essentially a grown-up Van Wilder, while Dave can be found in any Jim Carrey movie (or Jason Bateman movie, for that matter).
Count this one in the same category as The Hangover Part II as a raunchy-comedy miss. If you want a smart comedy that pushes the limit, go see Bridesmaids.
By John Soltes / Publisher / John@HollywoodSoapbox.com
The Change-Up
2011
Directed by David Dobkin
Written by Jon Lucas and Scott Moore
Starring Ryan Reynolds, Jason Bateman, Leslie Mann, Olivia Wilde and Alan Arkin
Running time: 112 minutes
Rated R for pervasive strong crude sexual content and language, some graphic nudity and drug use
Rating:
Click here to purchase The Change-Up on DVD.