'BREAKING BAD' REVIEW: Season One, Episode Two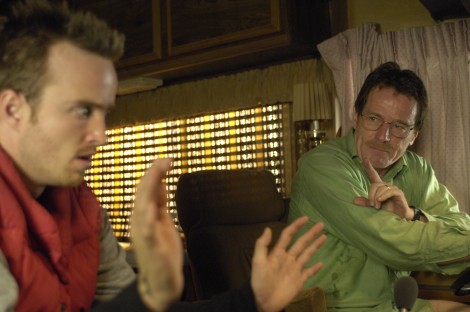 Review of "Cat's in the Bag…" (01:02)
SPOILER ALERT!
By episode two of Breaking Bad's inaugural season, it becomes clear why the AMC series is considered one of the best shows on television. The complicated character of Walt White (brought to glorious life by the skilled Bryan Cranston) is as original as they come. I would call him bad ass, but I'm too afraid he may punch me.
In "Cat's in the Bag…" Walt faces pressure from all sides. Skyler (Anna Gunn), his wife, has suspicions about why her husband is getting phone calls from Jesse Pinkman (Aaron Paul), a low-life drug dealer.
On top of his wife's doubts, Walt also has to deal with Krazy-8 (Maximino Arciniega), who is locked up in Pinkman's basement with burns to his face. It's Walt's job to kill him, but the high school science teacher can't muster enough courage to go through with the act.
Rather than getting rid of Krazy-8, Walt decides to give the sorry man a gallon of water and bologna sandwich. These simple acts humanize the character of Walt, and it helps place him in a more real context. He's not simply a basket-case suffering from lung cancer. He still has some good underneath all of that bad.
When Skyler finally confronts Walt about his relationship with Pinkman, he smartly says that the punk drug dealer is his supplier of marijuana. Rather than sitting on the news, Skyler decides to pay Pinkman a visit. She goes right up to the house where Krazy-8 is trapped in the basement and threatens Pinkman to stay away from her husband, or she'll let her brother-in-law (Dean Norris) know what he does for a living.
While Walt frets about murdering the man in the basement, Pinkman needs to dispose of the dead body of Emilio (John Koyama). Rather than taking Walt's advice, Pinkman pours acid over the dead body in the upstairs tub. The acid burns through not only the tub, but also the second floor of the house.
And just when all looks to be as bleak as can be, a little girl finds the gas mask left by Walt in the desert.
Uh-oh.
Breaking Bad's second episode is a melange of dead-end situations. If it weren't for Cranston's fine acting, the proceedings would seem almost farcical.
Creator Vince Gilligan has built a show that is gritty as a cactus sandwich. These are problematic, complicated, unrelentingly dedicated men. Pinkman and Walt may feel like a match made in hell, but for television purposes, they are a dynamic duo.
Breaking Bad feels like an HBO show, mostly because it never pulls punches. If the story requires a sex scene, so be it. A little cursing, go ahead. Violence? Bring it on. Whatever comes in the way of Walt's sorry state of being will come to visceral life.
"Cat's in the Bag…" proves that the series premiere wasn't a fluke. Walt and company bring the goods.
By John Soltes / Publisher / John@HollywoodSoapbox.com
Breaking Bad

AMC

Created by Vince Gilligan

Starring Bryan Cranston, Anna Gunn, Aaron Paul, Dean Norris and RJ Mitte

Rating:

Click here to purchase Breaking Bad: Season One on DVD.