'Insidious' is a gripping haunted house tale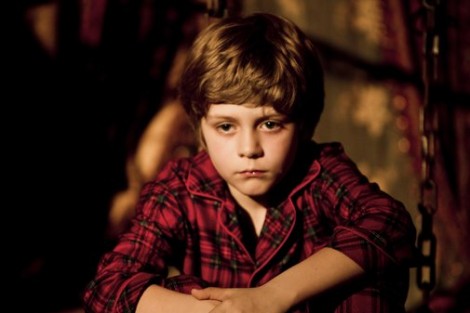 Insidious, the new movie from Saw director James Wan, is a refreshing new take on the old haunted-house horror tale. There are many frightening moments in this small film about a family's reckoning with an evil spirit.
Consider yourself warned. Moo-hah-hah-hah.
Rose Byrne and Patrick Wilson play Renai and Josh Lambert, one of those seemingly perfect American couples. He works as a local high school teacher. She stays at home and develops her dream of being a successful singer. They have three kids and a brand-new house in a beautiful suburban neighborhood.
While still setting up the house and unloading boxes, Renai begins to sense something is off with the new surroundings. The books that she swore she put on a shelf are now on the floor. Her sheet music has gone missing. There's strange noises coming from the baby monitor (Note to self: When the baby monitor starts going screwy in a horror film, run for the hills).
Their son, Dalton (Ty Simpkins), one day goes exploring in the dusty, dark attic and falls off a broken ladder. Although he suffers only a small cut, the little boy eventually finds himself in a coma. Renai and Josh are mortified.
Three months later we find out that the Lamberts have taken Dalton home. He's still in a coma, and his room has turned into a pseudo-hospital ward with IVs and beeping machines.
Strange things continue to happen to Renai. She sees a shadowy figure hovering over her baby's crib, and a scary man walks on the roof outside their windows.
After she begs her husband to move out of the house, the family uproots itself and finds a new home.
But it only takes a few hours for the spirits to follow the Lamberts. Apparently, it isn't the house that's haunted. It's Dalton.
Wan weaves in some frightening images in Insidious. The actual spirit that tries to possess Dalton is a cross between Darth Maul of Star Wars Episode I: The Phantom Menace and Nosferatu. You never get a full-on shot of the creature, but you get the idea that he's evil and a creepy dude. Joseph Bisharra plays the long-fingered man who is credited as being the Lipstick-Face Demon.
The acting is thankfully good in the film. Both Byrne and Wilson are consummate performers who can sell any line of dialogue, even the corny ones.
The script often relies too much on conversations that try to explain everything. In fact, Barbara Hershey's entire character (she plays Josh's mother, Lorraine) is a convenient plot device. Her sole inclusion in the film is to ground the story in some semblance of reality.
There's a cooky likability to Lin Shaye as Elise Rainier, a medium of sorts who helps the Lamberts with their otherworldly ordeal. But when she puts on a funny gas mask to hone her supernatural abilities, it's difficult not to roll one's eyes.
Insidious is not meant to be taken too seriously. The plot falls apart after closer inspection. But for those viewers who are able to sit back, relax and try to enjoy, the movie proves to be a wonderful little horror film. The scares are genuinely scary, and the frights are genuinely frightening.
By John Soltes / Publisher / John@HollywooSoapbox.com
Insidious

Directed by James Wan

Written by Leigh Whannell

Starring Patrick Wilson, Rose Byrne, Ty Simpkins, Barbara Hershey, Lin Shaye and Joseph Bishara

Running time: 103 minutes

Rated PG-13 for thematic material, violence, terror and frightening images, and brief strong language

Rating:

Click here to purchase Insidious on DVD.