William Shatner's 'The Captains' is Kool-Aid for Trekkies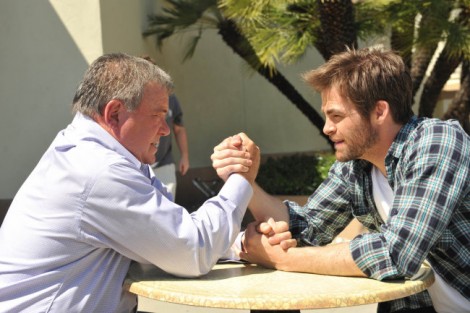 William Shatner's new documentary, The Captains, which documents his conversations with all of the actors who have sat in the prestigious captain's chair on the many incarnations of Star Trek, will appeal mostly to those fans who can describe the difference between a Vulcan and Klingon. Others will be entertained, but may feel they are missing out on an inside joke.
Shatner, who recently turned 80, explores the Star Trek universe and, in particular, those professional colleagues that succeeded him as Capt. James T. Kirk. Included among his subjects are Patrick Stewart of Star Trek: The Next Generation, Avery Brooks of Star Trek: Deep Space Nine, Kate Mulgrew of Star Trek: Voyager, Scott Bakula of Star Trek: Enterprise and Chris Pine of recent Star Trek cinematic reboot.
Shatner's interactions with his fellow actors is perpetually interesting, and that's mostly because Shatner is a deep interviewer and consummate conversationalist. He doesn't gloss over the issues in the documentary from a bird's-eye view; he dives deep and asks the questions that many Star Trek fans want to know about.
Some of the more compelling topics include how keeping up with the rigorous demands of shooting a television series affected the actor's personal lives. Stewart, Bakula and Shatner all share stories about their broken marriages. Stewart, at one point, almost comes to tears when talking about his two ex-wives.
Mulgrew offers some interesting thoughts about being a woman in the world of Star Trek. They all talk about their theatrical origins and how they broke into the franchise.
Brooks and Pine are the two additions who feel the most cheated of time. When Shatner interviews Brooks, it seems as if the Deep Space Nine actor is more content playing on his piano and singing a song than offering any helpful insights in his character or career. Pine has the least airtime out of any captain, which is probably appropriate, being that he's only made one movie.
There are a few asides about Star Trek fandom and the thoughts of other actors who have played alongside the captains. It's all interesting fodder to fill out the film, but it feels a little off topic.
Throughout the entire 97-minute documentary, Shatner turns much of the focus on himself. These aren't merely exploratory interviews; they are also chances for Shatner to do some soul-searching about his legacy as Kirk. The octogenarian offers many thoughts about his initial embarrassment over his work on Star Trek: The Original Series and his reluctance to accept the manner in which Star Trek has influenced the world.
Stewart almost plays a pseudo-therapist to Shatner's revelations, sharing his own similar experiences on Star Trek: The Next Generation.
There's nothing special about The Captains, in terms of subject matter or pressing news interest. However, it keeps one's attention, mainly because Shatner is incapable of being dull on the screen. There's never a moment when he's not offering up a clever tidbit or telling a joke. He may be interviewing his professional colleagues, but this documentary is truly about the one captain who started it all.
And for most Star Trek fans, that's probably a welcome development.
By John Soltes / Publisher / John@HollywoodSoapbox.com