'THE REAL HOUSEWIVES OF NYC' REVIEW: Reunion Recap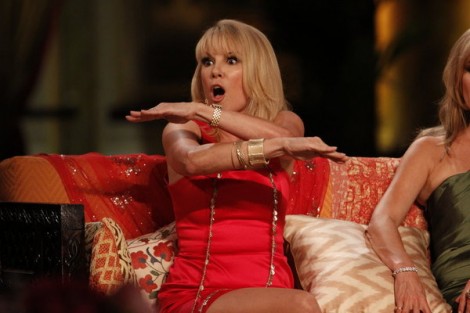 Calling this year's The Real Housewives of New York City reunion a cat fight is an understatement. Calling it a UFC cage fight could even be considered an understatement.
These women are ruthless with their mudslinging digs, personal insults and screaming matches. At one point, host Andy Cohen screamed, "Shut the f&%# up!" It appeared to be the set of The Jerry Springer Show rather than a reality show depicting women in the upper echelon of NYC society.
The ironic element of the reunion was that ever since Luann Delessep's song "Money Can't Buy You Class" became an iTunes hit, the topic of class came up often. I'm sure the viewers are convinced of that song's prophetic power after witnessing these middle-aged women with immense wealth fight like school-aged children on a playground.
Although Alex McCord never struck viewers as a well-liked character during the season, it was hard not to feel some sympathy for her during the reunion. She periodically became flushed with anger and was repeatedly called "weird" and "not normal" by her cast-mates.
Alex was not the only housewife to come under attack. Both LuAnn de Lesseps and Ramona Singer were accused of having husbands who cheat, and Jill Zarin was accused of being a recovering alcoholic, an accusation she vehemently denied. The newcomer, Cindy Barshop, stayed very quiet for the majority of the reunion, most likely contemplating why she signed up for this, and then remembering it was to promote her hair removal spas throughout the city.
Sonja Morgan was brought to tears about her divorce and bankruptcy filing. Yet Sonja did not miss an opportunity to tout who she knows, including the Chruchills. Luann was confronted about many comments she said during the season to cast-mates. She denied accusations of being passive aggressive and delivering hurtful "digs,"  but host Andy Cohen had the footage to prove her wrong.
The big question of the night … is Ramona an alcoholic? She accused her excessive drinking on the fact that she is trying to promote her Pinot Grigio, and that if she was an alcoholic she would not be able to run so many successful businesses.
While this season gripped fans to their televisions and made for great banter at the water cooler the next morning, it is rather embarrassing that women are capable of behaving this badly and America is capable of coming back week after week and season after season. It is like a car crash, and we just can't look away.
By Bear Adams / TV Columnist / Bear@HollywoodSoapbox.com
Click here for more information on The Real Housewives of New York City.