'FALLING SKIES' REVIEW: Season One, Episode Six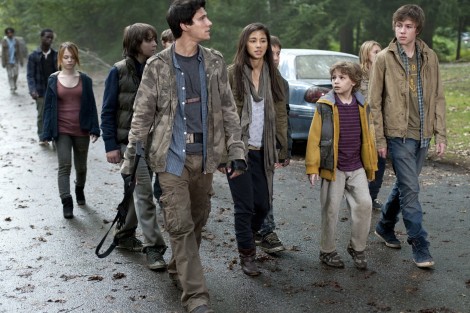 Review of "Sanctuary: Part II"
SPOILER ALERT!
The sixth episode of Falling Skies, the new TNT sci-fi series, begins right where the last one left off. The children of 2nd Mass have been separated from their parents and brought to a nearby holding facility. Everything seems rosy: The children are playing soccer and Hal Mason (Drew Roy) is finding flirtatious love from all sides.
Back at John F. Kennedy High School, where the adults are waiting for an attack by the skitters, Captain Weaver (Will Patton) reveals that he has two daughters, while Anne (Moon Bloodgood) is helping Sarah (Melissa Kramer), who is about ready to give birth to her child. Note to self: On sci-fi shows, the delivery of a baby may mean bad news is on the horizon.
Lieutenant Terry Clayton (Henry Czerny) and his men have a nefarious plan for the kids, and one way they are able to extract information on the 2nd Mass is through John Pope (Colin Cunningham), who is being held captive by the kidnappers. One of the best lines of the episode comes from Pope: "Civilization, you got to love it."
Clayton finally reveals his plans to Mike (Martin Roach): Essentially, the skitters say they just want the kids. So, to save themselves, these gun-toting adults plan on handing over some of the children. Rather than simply resting on his laurels, Mike takes the information and plans a counterattack. With Hal's help, he rounds up the children and makes a run for it.
With no word from the kids and no skitter attack, Tom Mason (Noah Wyle) and Dai (Peter Shinkoda) decide to take matters into their own hands. Disregarding a direct order from Weaver, they head out to this supposed sanctuary to see what's up.
Their efforts prove unsuccessful and Tom reports to Weaver that something is definitely wrong. There is no trace of Clayton or the children.
Meanwhile, at the sanctuary, Mike has fatally fallen during the escape attempt, so this leaves Hal to hole up with the children in a nearby house. Taking an unbelievable risk, Hal sends Ben (Connor Jessup) to the base camp to find their father. Poor Ben; he's like chopped meat on this show.
The climatic scene is a stakeout in the house, with Clayton and his men barging in, while Hal is left defending the children as best he can. Although it appears that he's the only adult left, Hal is quickly joined by not only Pope, but also his father and Dai.
Rather than fighting, Tom decides to hand his clip over to Clayton and lay down his arms. The battle, in the history professor's estimation, is over.
At first, Hal can't believe his eyes. Is his father that much of a wimp? But soon it becomes clear that there is a deeper plan afoot. Back at the sanctuary is Weaver, with some big guns. It doesn't take long for Clayton to fall (at the hands of Tom, no less) and the children to be saved. In the melee, Pope takes a gunshot to the leg.
Ben, who succeeded in his mission to find the calvary, is now accepted by the children who previously derided his harnessed weirdness.
"Sanctuary: Part II" finishes with Sarah having her baby, a funeral ceremony for Mike and Tom realizing that he needs to trust his instincts from now on.
Because this is an alien drama series, we need to be left with a little bit of suspense. That comes in the way of Rick (Daniyah Ysrayi) who seems zonked out of his mind and talks to the others like he is no longer human. Something is awry with this alien boy.
The "Sanctuary" two-parter was a nice addition to the inaugural season of Falling Skies. It coupled an invigorating plot with careful character development. We learned a lot. Weaver is obviously a father in mourning. Tom needs to shed some of his educational pacifism. Hal is a hit with the ladies. Ben is back, but Rick is still gone.
And the aliens are continuing to knock on the door.
By John Soltes / Publisher / John@HollywoodSoapbox.com
Falling Skies

TNT, Sundays at 10 p.m.

Created by Robert Rodat

Starring Noah Wyle, Moon Bloodgood, Colin Cunningham, Connor Jessup, Maxim Knight, Drew Roy, Will Patton and Dale Dye

Rating:


Click here for more information.