'TRUE BLOOD' REVIEW: Season Four, Episode Six
Review of "I Wish I Was the Moon" (04:06)
SPOILER ALERT!
I hereby rename True Blood — Supernatural.
This show is getting very close to losing its loyal fans. Some viewers may have already jumped ship due to the ever-changing plots, multitude of storylines and outrageous supernatural beings. It's still entertaining, but is quickly getting out of hand.
Sookie Stackhouse (Anna Paquin) even points out in a scene with her brother Jason Stackhouse (Ryan Kwanten) that she isn't sure if she knows even one normal human anymore.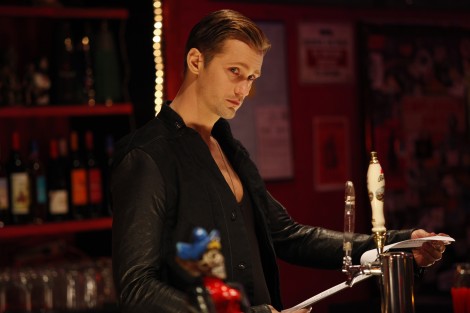 Supernatural craziness aside, the show still delivers on a lot of fronts. All of the vampire storylines and the seducing actors/actresses are keeping the fans tuned in every Sunday evening.
Bill Compton (Stephen Moyer), who we thought was a ruthless king, shows his soft side by allowing Eric Northman (Alexander Skarsgård) to go free, much to the delight of Sookie. This development ends in the ultimate burn: Sookie and Eric have a steamy encounter in the woods.
Pam (Kristin Bauer), Eric's protégé, is also released from Bill's wrath, and as we learn in the final scenes, she is seeking revenge on Tara Thornton (Rutina Wesley). Probably the most tantalizing cliffhanger in "I Wish I Was the Moon" is Marnie (Fiona Shaw) and her violent outburst in prison. We find out the horrifying past of the spirit that is channeling through the modern-day witch. Coincidentally, the vampire who violated this spirit-witch during the Spanish Inquisition (not to mention drank her blood and set her on fire) is now within Marnie's reach. This all may lead to a climatic ending where many night walkers die by way of the sun.
The other story lines are a little lost on me, but if developed they may prove interesting. Tommy Mickens (Marshall Allman) shifts into his brother Sam Merlotte (Sam Trammell), having this unique ability because he killed his parents.
With much relief, Jason finds out he is not shifting into a ware-panther and that he has a powerful attraction to his best friend Hoyt's vampire girlfriend, Jessica (Deborah Ann Woll). Lafayette (Nelsan Ellis) is in Mexico with Jesus (Kevin Alejandro) and has a rare encounter that makes him a believer in the power of witchcraft.
And last, but certainly not least, the creepy spawn of Rene is at it again, wreaking havoc on Arlene and Terry's family. The question on my mind is, why don't they get rid of that half-dead, creepy, dirty doll that seems to be following the baby of destruction around?
All in all, a very confusing episode with too many undeveloped storylines. Until next Sunday, let's hope there are no more supernatural beings hiding in Bon Temps.
By Bear Adams / Columnist / Bear@HollywoodSoapbox.com
True Blood

HBO, Sundays at 9 p.m.

Created by Alan Ball, based on the books by Charlaine Harris

Starring Anna Paquin, Stephen Moyer, Sam Trammell, Ryan Kwanten, Rutina Wesley, Chris Bauer, Nelsan Ellis, Jim Parrack, Carrie Preston, Alexander Skarsgård, Todd Lowe, Fiona Shaw, Brit Morgan, Joe Manganiello, Deborah Ann Woll and Kristin Bauer

Rating:


Click here to purchase True Blood Season One on DVD.

Click here to purchase True Blood Season Two on DVD.

Click here to purchase True Blood Season Three on DVD.

Click here for more information on True Blood.