'V IS FOR VAMPIRE' REVIEW: An introduction for suckers
Adam-Troy Castro and Johnny Atomic continue their A-to-Z guides of the undead with V is for Vampire. Their guidebook on blood-suckers comes quickly after the release of their undead panorama, Z is for Zombie (read a review of that book here).
Much like the first book, V is for Vampire is a tongue-in-cheek look at the lore of those iconic creatures from the night. Each letter of the alphabet describes a different phenomena associated with vampires, whether it's "D is for Dracula" or "K is for Kiss of the Vampire." Expect to read about garlic, tombs, cats and even arterial spray.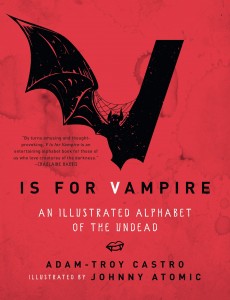 This rubric of describing vampires in 26 different ways makes the book a quick read (chiming in at 64 pages). Castro's prose will likely attract those people who yearn for their daily dose of Sookie Stackhouse or Edward Cullen. Unsure of who Sookie and Edward are? Then, V is for Vampire will likely not be your cup of blood … er, tea. You need to already be initiated into the cult of vampires to enjoy this compendium to the genre.
Atomic, who provides illustrations to accompany Castro's text, offers many visual bookmarks for readers. His art is captured in black and white, with bloody red the only color oozing through the pages. He has a fine eye for detail and is able to switch from historical portraits to funny, modern-day vamps with ease and believability. His silhouette of a Nosferatu-looking vampire listening to an iPod is probably the best of the bunch.
Both Castro's words and Atomic's drawings never cross into the gruesome side. For a book about undead creatures sporting sharp fangs, V is for Vampire is tame and mostly meant to make one smile.
Both Castro and Atomic are obviously influenced by the many cinematic and literary incarnations of vampires over the years. From Bram Stoker's Dracula to the novels by Charlaine Harris, V is for Vampire pays tribute to the myth of the blood-suckers by detailing how the fanged ones have been represented from decade to decade. There's even a large section on the most famous vampire hunter of all, Van Helsing.
Still, despite its humor, there's definitely something holding the book back from pure excellence. Perhaps because there are only 26 short passages to read, V is for Vampire feels too fleeting. It's clever, but never groundbreaking or more than a passing aside. Then again, the subject matter is meant to poke fun, so a full book would be too overbearing.
Again, this is Kool-Aid for those horror fans who understand the myths of these creatures. If you're enraptured by these blood-suckers, then it's definitely worth a look. If you've never heard of Bela Lugosi, then go pick up some chick-lit to read.
Wonder whether W is for Werewolf is in the cards? Or perhaps B is for Bigfoot?
By John Soltes / Publisher / John@HollywoodSoapbox.com
V is for Vampire: An Illustrated Alphabet of the Undead


By Adam-Troy Castro with illustrations by Johnny Atomic

Harper Voyager, 64 pages (hardcover)

Retail price: $16.99

Rating:


Click here to purchase V is for Vampire by Adam-Troy Castro.