'ALPHAS' REVIEW: Season One, Episode Two
Review of "Cause and Effect" (01:02)
Give us your opinion at our Alphas forum (click

here

).
Episode two of Alphas, the new original series from on the Syfy Network, feels completely different from the show's premiere last week. While the 90-minute pilot is cutting-edge, balancing fine-tuned characterization with an intricate plot, the second episode feels disjointed and less invigorating.
For some reason, "Cause and Effect" shifts the tables 180 degrees. Everything has changed and not necessarily for the better.
The Alphas, a group of people with super-human abilities, have moved into new office space. Why, and being that there was no mention of this pending move, how much time elapsed between episodes?
Don Wilson (Callum Keith Rennie from Battlestar Galactica) serve as the Department of Defense contact to the Alphas in the series premiere. In episode two, he doesn't even show up. Instead, we get Kathy Sullivan (Valerie Cruz from Dexter). We find out that Don is on assignment elsewhere. Both Kathy and Don are essentially the same character: government workers who don't truly understand the difficulties of what it's like to be an Alpha. Why?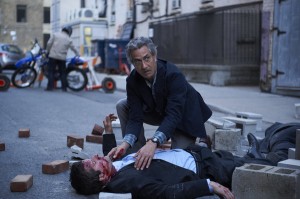 Even David Strathairn's Dr. Lee Rosen has shaved his beard and seems different from his pool-swimming days in the premiere. Why?
No explanations come on why these fairly large changes occur in only the second episode.
The team of good Alphas is still there, including newcomer Cameron Hicks (Warren Christie) who deserves a little more exposition and some time to fit in with his new surroundings. But they all take a backseat to the problem superhero of the moment: a former patient of Dr. Rosen's who has the ability to manipulate the power of cause and effect.
The episode turns into a routine police procedural after the former patient escapes from an ambulance on his way to an institution for bad Alphas in Binghamton, N.Y. News of the institution is one of the more intriguing developments in "Cause and Effect," and hopefully the storyline will return in future episodes.
This second installment mostly focuses on Dr. Rosen, and thus Strathairn is on screen almost every second. This isn't a bad choice, because the actor is able to hold his own. However, his team of superheroes feels too much like an afterthought, as if their unbelievable abilities are mere tools to be used when necessary.
The show needs an over-arching storyline to keep viewers interested from week to week. There are enough police procedurals on television. Alphas, like the superheroes it portrays, should stand for something more. If it becomes routine, then it deserves every comparison to X-Men and Heroes. And, to be honest, the second episode makes the Syfy show feel like a cheap rip-off those better franchises.
These are not insurmountable goals. The series is still worth exploring and hopefully a resurrection is on the horizon. Perhaps it worked against the favor of the show to have such a strong series premiere. The pilot is like watching a movie, while "Cause and Effect" feels like another episode of Law & Order.
Call it Law & Order: Superhero Criminal Unit.
By John Soltes / Publisher / John@HollywoodSoapbox.com
Alphas

Syfy, Mondays at 10 p.m.

Created by Zak Penn and Michael Karnow

Starring David Strathairn, Ryan Cartwright, Warren Christie, Azita Ghanizada, Laura Mennell, Malik Yoba and Callum Keith Rennie

Rating:


Click here for more information.