'Trekkies' is a hilarious, sometimes uneasy look at Star Trek fans
Trekkies, a documentary by Roger Nygard, takes an in-depth look at the dedicated fandom of Star Trek. Gene Rodenberry's baby, which has spawned a number of television shows and feature films, has earned arguably the most ardent fanbase in the history of visual entertainment. No other franchise, from Star Wars to Twilight to Doctor Who, has kept devotees satisfied for 45 years and counting.
Nygard's 1997 film, narrated by Star Trek: The Next Generation actress Denise Crosby, focuses on both the hilarious and cleverly odd ways in which Star Trek fans celebrate the phenomenon. Many of the scenes from the convention circuit are hilarious, with fans paying top dollar at auctions for rare memorabilia and everyone, from kids to senior citizens, dressing up as their favorite Starfleet captain or Klingon.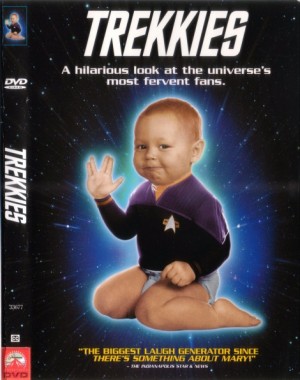 The personal stories that Nygard focuses on straddle the line between touching and pitiable. One woman, Lt. Commander Barbara Adams, is profiled as one of the most determined fans when it comes to her personal costume (or outfit). Adams infamously appeared in an Alabama courtroom dressed in her full Starfleet uniform. She was a juror on one of the most controversial cases of all time: Whitewater.
Other scenes show Adams working in Little Rock, Ala., where her colleagues call her commander and she gets a few arched eyebrows when she walks by.
Another storyline follows Gabriel Köerner, a 14-year-old fan who has lived and breathed Star Trek his entire life.
A family in Orlando, Fla., runs a dentist practice that has an office sporting Star Trek memorabilia. In fact, Dr. Denis Bourguignon wears his Starfleet uniform while inspecting for cavities.
A couple of the stories border on frightening. There is one lady who worships Brent Spiner, Data from Star Trek: The Next Generation, even pointing out how far the actor's house is from her own porch. Another fan says point blank that if he had the money he would surgically change his ears to look like everyone's favorite Vulcan, Mr. Spock.
Nygard and Crosby never poke fun at their subjects, although there is a definite sense that these fans are a little bit off. But Trekkies is, by and large, a benign film that celebrates the Star Trek phenomenon as much as the fans do. A little ribbing never hurt anyone.
Some of the best sequences involve actors from the franchise who share some of their memories from throughout the years. James Doohan, who played Scotty on Star Trek: The Original Series, talks about one fan who sent him a suicide note, while Leonard Nimoy (Spock) and Nichelle Nichols (Lt. Uhura) talk about their rockstar status at Star Trek conventions. Walter Koenig is hilarious as he talks about his legacy.
Almost 15 years after its original release, the film is showing a bit of age. The picture is not the best and the sound quality isn't perfect. Also, having Crosby stand with a microphone in front of some fans feels a little too journalistic for a casual documentary.
Trekkies may upset some Star Trek fans who feel that the film focuses too much on the oddball behavior of a select few. For my money, the movie is entertaining and mostly a tribute to Rodenberry's vision.
By John Soltes / Publisher / John@HollywoodSoapbox.com