'FALLING SKIES' REVIEW: Season One, Episode Two
Review of "Prisoner of War" (01:02)
Falling Skies, the new hit television show from TNT, settles in nicely after its two-part premiere (episodes zero and one, for those keeping count at home). All of the characters in "Prisoner of War" get a little more time to etch out their personae, including Noah Wyle as Tom Mason, a man trying his best to take care of his three sons.
For newbies, Falling Skies follows a group of survivors a few months after a crippling alien invasion. The extra-terrestrials come in two varieties. Skitters are spider-like aliens with great power, while Mechs are robotic aliens with guns for arms.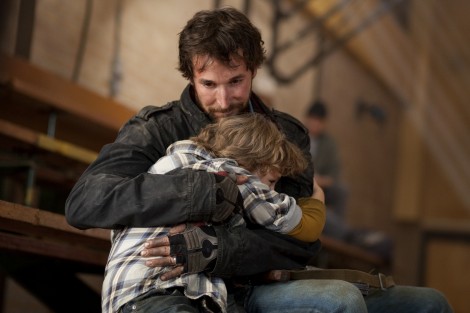 Although the motive behind the alien attack is still a mystery, it seems as though their purpose deals with the children of earth. Ever since landing, they have rounded up the young ones with symbiotic "harnesses" that connect to their spine. If you are able to recapture your kid and remove the harness, the child dies.
In "Prisoner of War" that little problem involving the dying children is solved by Dr. Michael Harris (Steven Weber of Wings). The doctor has developed a method to cut the harness off and still preserve the life of the child; however, his theory is untested and that's where Tom and his captured son, Ben, enter the picture.
Captain Weaver, head of the 2nd Mass military outpost, allows Tom to take some manpower and find his son. His mission is to bring back Ben (Connor Jessup) and have Dr. Harris try the experiment on him.
This obviously presents a conundrum to Tom. He's happy to have the chance to reunite with his son, but he can't stand the thought of his offspring being the first to go under the doctor's knife. Add to that the fact that Tom hates Dr. Harris. Again, all the details are fuzzy, but it appears that the doctor chose to save his own life over the life of Tom's wife.
As the episode progresses, we find that Tom's decision over his son's future is already made for him. While out in the field, Tom and his team are unable to grab Ben, but they do retrieve a child who is recognized as the son of a fellow survivor.
In the same battle, the group is able to snag a gift for the captain: an imprisoned, real-live skitter (hence the title, "Prisoner of War").
Wyle is the best of the bunch when it comes to acting on Falling Skies. He's obviously a master at television work after so many years on ER. His expressions are never over the top, and his personality is always mild and thoughtful, which is true to his character's history professor background.
I'm still not loving Patton as Captain Weaver. He seems so unbelievably gruff that the character comes off kind of wooden. We need to peel away the layers of this onion to learn more about this man. There's an interesting character somewhere under that furrowed brow.
The visual effects continue to impress, as does the engaging writing.
Falling Skies is not must-see television yet, but it has the potential to be one of the best sci-fi series in a long time. A little more time and hopefully a lot more characterization will point this Steven Spielberg-produced show in the right direction.
By John Soltes / Publisher /
John@HollywoodSoapbox.com
Falling Skies

TNT, Sundays at 10 p.m.

Created by Robert Rodat

Starring Noah Wyle, Moon Bloodgood, Colin Cunningham, Maxim Knight, Steven Weber, Drew Roy, Will Patton and Dale Dye

Bubble score: 3 out of 4

Click here for more information.