'68 #2 review: Running through the jungle
Zombies populate the Vietnam War in the inventive new comic book series known as '68.
For its second issue, the carnage continues deep in the jungles where only the undead seem to thrive. Creators Mark Kidwell, Nat Jones and Jay Fotos have an obvious appreciation for the 1960s and its colorful imagery. Their homage begins with the alternate covers they use for each issue. In this second installment, they depict a zombified Jimi Hendrix donning a scarf and tattered English jacket. Somehow they took an iconic image and made it even more so.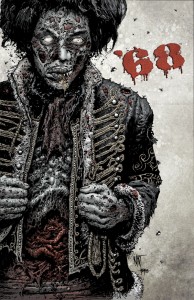 The visuals of '68 are well-drawn and colored, and the story remains deeply allegorical and easily digestible (pun intended).
We pick up on the continuing undead saga with "Better Run Through the Jungle."
The first scene involves a busty peace activist in a tight T-shirt shooting a promotional video defending the North Vietnamese. Obvious parallels to Jane Fonda and her "Hanoi Jane" days are evident.
We break from the activist's exploits to follow CIA agent Declan Rule as he commandeers a non-combat unit and its helicopter. Rule's mission is to head to the violent border, undoubtedly where he's heard all the zombie action is centered. Behind enemy lines (though with the dead coming back to life, who is the enemy and where are the lines?), we find Yam, a Chinese-American soldier who was just about to face a grotesque zombie monster the last time we left him. With his trusty dog, Nero, by his side, he goes head to head to head to head (there are a lot of heads) with the gross beast in spectacular fashion.
Issue #2 keeps the energy of the comic book at an extremely high level. There is little wiggle room for quieter moments or scenes of reflection. But there are several pockets of allegory that seep through. One scene between Capt. Joseph Duncan and a doctor at the firebase sums up the predicament of having zombies in a war zone: "From now on, they (the soldiers) might be starin' at one 'a their buddies down that barrel."
As was the case with the inaugural issue, '68 also features a four-page side story that stands separate from the overall plot. Issue #2 features "Sissy," a warped love tale between a boy soldier and girl zombie. It's a clever little yarn that offers a nice capstone to a strong comic book.
'68 continues to be a creative entry in the growing zombie omnibus. It's graphic, yet iconic. Having the Vietnam War as a backdrop to a zombie uprising is an interesting blending of horror with horror. There's the horror of George A. Romero meeting the horror of actual combat. This doubles the scary quotient and leaves the soldiers with few avenues to seek safety and respite. It's atmospherically apocalyptic, and leaves the reader with a bleak view of humanity and history.
By John Soltes / Publisher / John@HollywoodSoapbox.com