'On Stranger Tides' cuts to the chase by cutting the fat
The lucrative Pirates of the Caribbean franchise, which is based on the theme park ride at Walt Disney World and Disneyland, was getting a little long in the tooth during its third installment. The shenanigans of Capt. Jack Sparrow (Johnny Depp) and his motley crew of mangy shipmates were growing staler than a sea biscuit left out in the sun.
Now comes Pirates of the Caribbean: On Stranger Tides, an obvious attempt to squeeze a little more blood from this stone. Surprisingly, Rob Marshall's film is vastly better than its predecessor and stands on its own two feet as a worthy summer blockbuster. It's big. It's dumb. But it's also entertaining.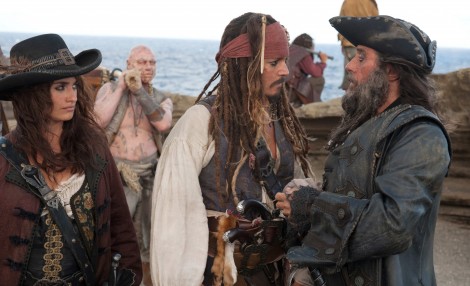 As with all of the Pirates movies, the opening sequence offers us an idea of what our lovable hero has been up to since we last left him. In this fourth installment, we find Sparrow on the streets of London looking for his old crew and a fellow pirate who has been impersonating him in the pubs. That fellow pirate is none other than Angelica (Penelope Cruz), an old flame of Sparrow's who still knows how to spark a few romantic fires.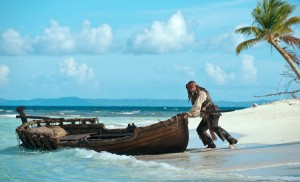 Angelica has been rounding up a crew to sail with the legendary Blackbeard (Ian McShane of HBO's Deadwood) for the alluring Fountain of Youth. Instead of spiting Sparrow for disturbing her plans, Angelica brings him aboard, and the entire crew sets out on the choppy seas.
Following them is Capt. Hector Barbossa (Geoffrey Rush), who is now working for King George II (Richard Griffiths).
On Stranger Tides is essentially a remake of It's a Mad, Mad, Mad, Mad World. The Fountain of Youth sends all of these pirates into a tailspin adventure of intricate swordplay, cutthroat backstabbing and voodoo mythology. It's a race against time and a battle to the end.
Marshall, taking over directorial duties from Gore Verbinski, uses a clever script by Ted Elliott and Terry Rossio. The best part about the story is not what's on the screen, but what's missing from it. The first three films in the franchise added a sappy romance between the characters played by Orlando Bloom and Keira Knightley. On Stranger Tides thankfully drops both characters and focuses on the pirates (although the running time is still 15 minutes too long).
The visuals of the movie fall short of stunning, but they still keep the interest. The acting is all salty goodness, especially Depp's still humorous turn as Sparrow. The only role that doesn't land is Cruz's Angelica, a part that is unfortunately underwritten and lacking in personality.
The movie is undoubtedly a cash cow for Disney. These pirate flicks earn so much money that Sparrow will likely be around for quite some time. If future sequels are as fun and light-hearted as this one, we'll be in for a good ride.
By John Soltes / Publisher / John@HollywoodSoapbox.com
Pirates of the Caribbean: On Stranger Tides

Directed by Rob Marshall

Written by Ted Elliott and Terry Rossio, based on their screen story and characters by Elliott, Rossio, Stuart Beattie and Jay Wolpert; suggested by the novel On Stranger Tides by Tim Powers

Starring Johnny Depp, Penelope Cruz, Geoffrey Rush and Ian McShane

Running time: 136 minutes

Rated PG-13 for intense sequences of action/adventure violence, some frightening images, sensuality and innuendo

Bubble score: 3 out of 4

Click here to purchase Pirates of the Caribbean: On Stranger Tides on DVD.