INTERVIEW: Amy Fox on her Canadian sitcom debuting in the U.S.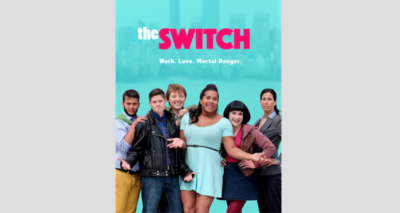 The Switch, the new television series from showrunner Amy Fox, follows a group of friends in Vancouver, Canada, as they navigate the difficulties of online shopping, dating and building lives on their own terms. The show's tagline says it all: "Work. Love. Mortal Danger." The series features a diverse ensemble, including many transgender cast members, and is being billed as the world's first transgender half-hour sitcom.
The hope of Fox, who also stars in the series, is that the first six episodes of The Switch will spark enough interest that a season two can be produced. Other cast members include Nyla Rose (playing the central character of Sü), Vincent Viezzer and Lindsay Coryne.
Recently, Hollywood Soapbox exchanged emails with Fox about the new series. Questions and answers have been slightly edited for style.
What inspired you to make this TV series?
We wanted to make something funny, real and hopeful that just happened to star trans people. And since we hadn't shot any video before, we didn't realize what we were getting into. That bold vision and blatant obliviousness set us on a journey which, seven years later, gave us this wonderful show.
What do you hope American audiences take away from the series?
Audiences will laugh. They'll be entertained, and I hope they'll recommend it to their friends so that we can keep making more. Our show is wonderfully ridiculous, topical as hell, both dark and hopeful, and it just happens to star trans folks in a way that no one has ever seen — all wrapped in the kind of comedy that people want.
Do you feel there needs to be more diverse representation on TV and in the movies? Do you see shows like The Switch leading the way?
Our stories shape our perception of our world. But most TV is green-lit only if it avoids the amazingly real stories that come from people fighting under and through inequality — gender, size, race, age, accent, ability, looks and class. The lives of 98 percent of humanity get redacted before they can get off script. Not only do we need to change that, we get better and more vibrant TV when we do. And I'm honoured that The Switch is one of many shows making that change. Oscar-bait movies can't seem to find a single trans lead, but our bare-bones TV show can find five. It's proof positive that better media is possible, real, and we can all make more.
What was it like to work with this ensemble of actors? Was it an enjoyable time on set?
It was amazing to work with the ensemble. Everyone — leads and day players; trans and cis — was committed to the content, the comedy and the crew. Everyone wanted to make something amazing, and we did. Our set struggled with assembling a show on a limited budget, and it was hard sometimes. But everyone looks back on it knowing that they made media history.
What's the future for the series beyond season one?
To prove that groundbreakingly diverse comedy is viable! The next step is season two. If people watch 100,000 copies of season one, we can make another (longer) season that takes the comic weirdness and real portrayals forward. Normally a TV show has to have millions of viewers, but we don't have any advertising or network middlemen. And we run a tight ship, so we just need 100,000 sales of season one to keep making more. It's up to readers if they want to see more of this.
By John Soltes / Publisher / John@HollywoodSoapbox.com
The Switch is now available on VOD and digital platforms. Click here for more information.