INTERVIEW: Syrian refugees are focus of new play 'Lost and Guided'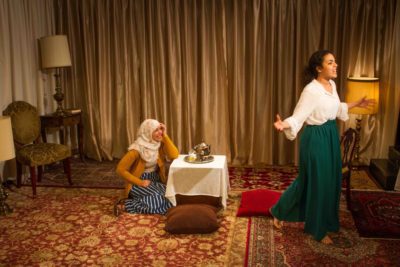 The Syrian refugee crisis has dominated the headlines for the past year, causing debates and controversial policies in a number of countries. The outpouring from the arts community has been kicking into high gear. Lost and Guided, the new play written and directed by Irene Kapustina, joins the fray of projects that seem ripped from the headlines.
In the show, which plays through Aug. 25 at Under St. Mark's in the East Village of New York City, the lives of four Syrians are explored. Kapustina gathered the plot details and dialogue from interviews she conducted with refugees from Syria who are facing an uncertain future.
In the piece, she's committed to telling the story before, during and after the civil war that continues to wreak havoc on the Middle Eastern country. The play will take audiences from Syria to New Orleans by telling a story centered on love, friendship and struggle.
"They can expect a compelling story that tells in detail how the civil war in Syria affected the lives of four people, and the key to Lost and Guided is that it shows the life before the war started and then showcases how war affected, in different ways, the lives of four Syrians," Kapustina said in a recent phone interview. "The inspiration came from seeing the refugee crisis reach its peak last year, and I've been watching news. And I've been watching media clips full of violence and these horrible images that were coming from Twitter, Facebook, everywhere. What was mind-boggling to me was seeing how, despite the fact that we saw all this information, still seeing how the world was kind of turning on people knocking on their doors, looking at how European countries reacted to people literally walking for days, begging for help."
Kapustina, in her role as a writer and director, wanted to explore ways in which she could personally address the crisis. The Angle Project, a New York-based theatrical initiative, has given her the chance to marry her art with her activism.
"Our goal and our mission is, apart from producing professional theater, to use performance art to aid displaced populations — whether it's immigrants, homeless population, refugees — and help them integrate and also working with the hosting communities to help them kind of learn how to welcome people," she said. "So we thought, OK, this is directly up our alley, and how are we going to approach this subject. And originally the idea came to engage the refugee population in telling their story themselves, but after researching what the situation of the refugees here in the United States was, I realized that I cannot gather them all in one place at the same time, and also knowing that they are in a very vulnerable situation. A lot of them are in extreme financial hardship. A lot of them are extremely traumatized, and some of them are not willing to expose themselves in any way."
Kapustina still wanted to tell their stories, so she decided to go around and interview as many people affected by the Syrian civil war as possible. She recorded their experiences and then started incorporating them into a single narrative. Lost and Guided, the result of her interviews and transcribing, is largely built from the exact words of these Syrian refugees.
"I was able to actually arrive at [a] full story that has a beginning, middle, end," Kapustina said. "It's a full narrative, but the words came from the people I interviewed."
Kapustina trained as an actor and eventually transitioned into directing. Because of her unique approach of interviewing refugees and recording their conversations, she always knew she would also direct the play. Many hours in the reporting and writing stages have helped her realize her theatrical goals. It has been a long journey, and now she hopes the audience responds to these human stories.
"There are several things that I really hope that the play will achieve," she said. "First, I hope that the idea of a refugee will be extended in the minds of our audiences. In a way, we are so used to looking at them as just statistics, numbers, and I want them to be looked as people, as just human beings with very ordinary lives. They had ordinary lives. They had very normal feelings. They had dreams and aspirations, and war put them in a situation where they had to turn around and beg. And I hope that this story will dignify the Syrian refugee in our eyes and help us to identify with them on a very horizontal, very human level, and help us understand that these are people just like us. And maybe next time when they see someone in a hijab outside in the street, or when they see a Syrian resident helping them in a hospital, or when they see someone just with a Syrian background knowing that they had a refugee experience, they will know that these are people just like them. And they will be not afraid of them."
By John Soltes / Publisher / John@HollywoodSoapbox.com
Lost and Guided, written and directed by Irene Kapustina, plays through Aug. 25 at Under St. Mark's in the East Village of New York City. The production is presented by The Angle Project and Conrad Fischer. Click here for more information and tickets.