INTERVIEW: 'A Real Boy' uses puppetry to explore issues of adoption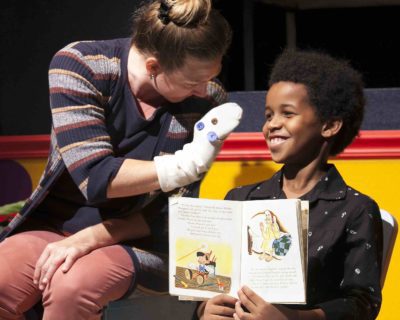 A Real Boy, the new play at 59E59 Theaters in Midtown Manhattan, began with two inspirations: The Muppets and Fox News.
Playwright Stephen Kaplan wanted to explore the circumstances of what makes a family and who is allowed to have a family. To develop these thoughts into a narrative, Kaplan took part in a workshop with the playwright Kristoffer Diaz, the person behind The Elaborate Entrance of Chad Deity.
"He did an exercise where we had to take two things that we are passionate about in different ways," Kaplan said in a recent phone interview. "I always loved the Muppets, and then Fox News was also something I was very passionate about in a very different kind of way. … There was a lot going on, especially in conservative media, about what makes a family and who is allowed to be a family. I'm gay, and my husband and I have an adopted son. And kind of convergent with this workshop and everything going on … my son was at the time 2 or 3, and was much more into things like My Little Pony than Power Rangers. And I noticed in myself kind of this sudden internalized homophobia of going, oh, my gosh, obviously I will love my child whatever he ends up being, but I didn't want people to be blaming us for whatever he happens to be. I found myself going, you know, hey, let's go throw a football, and I don't even know how to throw a football. We don't even own a football, and so kind of all of that came together to create the play."
A Real Boy, directed by Audrey Alford, features two puppet characters adopting a human boy. Eventually the young boy starts to grow strings, so his kindergarten teacher decides to "save him." Building this narrative allowed Kaplan the chance to explore and unpack these ideas even further.
"Any play that I write always starts with something personal to me, a question I have about the world or something that I'm trying to figure out," he said. "The actors say, oh, my gosh, even though that's not my experience, this is how I'm reading the play and how I get into it, and that's what I love about theater. … All these ideas kind of generate together to create something even bigger than I ever imagined."
The play is produced through the Ivy Theatre Company, in association with Athena Theatre. How A Real Boy came to Ivy is quite the story. Kaplan had originally sent the piece during the company's blind submission process. They eventually invited him for an interview, but the night before he was called in, he ran into a couple of producers at a networking party. They started talking, and Kaplan mentioned he had this new play. When the producers mentioned they were part of Ivy Theatre Company, Kaplan realized the connection.
"I said, 'Um, I'm meeting with you tomorrow about my play,'" he said. "It was great because we actually had our meeting in a sense the night before, and realized that we all liked each other and kind of were very much on the same page."
Kaplan's husband is his first editor. Their son, who is 10 years old now, hadn't seen the play as of a couple weeks ago, but he's aware of its existence. The playwright is definitely excited to have him come and see the production, and when he does, it will be a full-circle moment, for sure.
On the horizon, Kaplan is going to continue writing and making connections with theaters who are hopefully interested in his work.
"I've always got a lot of balls in the air," he said. "I've got a couple other plays that are kind of in the very beginning stages that I'm working on writing. Another play of mine called Community, I've been having a lot of readings around the country, which has been great, and just always actively looking for new theaters, new places to be doing the work with."
By John Soltes / Publisher / John@HollywoodSoapbox.com
A Real Boy is currently playing at 59E59 Theaters in Midtown Manhattan. Performances run through Aug. 27. Click here for more information and tickets.