INTERVIEW: Barrington Stage Company has a little bit of 'This' and that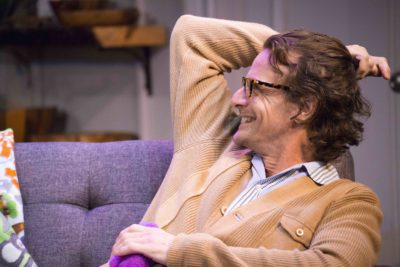 The legendary Barrington Stage Company in Downtown Pittsfield, Massachusetts, sees many top theatrical stars head up to the Berkshires for a summer season away from the hubbub of New York City. For actor Mark H. Dold, his time at Barrington has been more than a summer break. The accomplished performer is celebrating his 14th show and 13th season with the venerable institution, and his latest role is Alan in Melissa James Gibson's This, playing through Aug. 27 on the St. Germain Stage.
Louisa Proske directs the new production, which also stars Julia Coffey, Erica Dorfler, Eddie Boroevich and Paris Remillard. The play, which was seen off-Broadway, surrounds a group of friends preparing for that much-maligned label of "middle age."
Recently, Hollywood Soapbox exchanged emails with Dold about the show and his character. Questions and answers have been slightly edited for style.
What attracted you to the role of Alan in This?
I was instantly attracted to Alan's perception of himself and the world around him, all filtered through the lens of total recall. Is this a blessing or a curse? How do you move forward in life when you're dragging your entire past along with you? The good, the bad and the ugly — that massively specific character trait really drew me in.
There was also the challenge of Alan and I appearing to be polar opposites. He's a Jewish New Yorker with a superior intellect. I was raised Catholic and very suburban. He's a big drinker and reader. I'm almost a tea-totaler who's allergic to big words.
However, I quickly found similarities in his restlessness, his compassion, massive ego and fragile esteem. Have I just revealed too much about myself?
From an actor's perspective, what do you like about Melissa James Gibson's dialogue?
I've known of Melissa's work since my Yale Drama days. She was one year ahead of me. However, I never had the chance to work on any of her material. It's deceptively complex. It's Shakespearean in its structure but needs to be utterly contemporary in its execution. You need one foot in both worlds. It's terribly tricky. Your actor instrument needs to be facile and fully alert; then you need to deliver with (seemingly) minimal effort. It's a real workout. The absence of punctuation in her writing is both thrilling and terrifying. She lays out the rhythm for you but almost dares you to break it. To master her dialogue is exhausting and fortifying at the same time.
What has it been like to work with director Louisa Proske?
Louisa is my current obsession. She is thrilling to work with. I once called her a 'heat-seeking-missile.' She has boundless energy and a razor-sharp focus. Her process is both rigorous and gentle. She is a master with language and action. She can smell the truth and knows a lie. She's actually a 'truth-seeking-missile.'
She never stopped digging and inspired us to do the same. She challenged us not to settle with any choice [and] to use every performance, every rehearsal as an opportunity for further exploration. Louisa took us back to basics with theatre games, character exercises, deep script analysis, company warm-ups, all of which seemed foreign to me being years out of drama school, but I'm convinced we wouldn't have discovered the mysteries of the play, the way I think we have, without them. We certainly wouldn't have the chemistry I believe our ensemble has. I can't wait to work with her again, and again and again. Louisa, I hope you're reading this!
You've performed at Barrington Stage Company before. What do you like about the company?
This is my 14th show and my 13th season. Can you believe that? Where did the time go?  This is exactly the theatre experience I dreamt of as a young actor. I grew up in the northern Chicago suburbs watching the original Steppenwolf Theatre family, the Wisdom Bridge, Victory Gardens and Goodman Theatre actors. I saw them stretch themselves and have a place to explore the boundaries of their talent, while being a part of a theatre family that encouraged growth and risk. That is what Julianne Boyd and the Barrington Stage family have given to me.
In no other place, outside of drama school, have I been encouraged to challenge my 'type,' my range, my boundaries. I've been given roles I would never be allowed to play anywhere else. I've been encouraged to explore the bold outline of my ability and even color outside of that line. You come here to work hard, work fast and take a chance. Truly, nothing has meant more to me than my time here. I am the actor I am today because of a few great teachers and Julie Boyd.
By John Soltes / Publisher / John@HollywoodSoapbox.com
This, starring Mark H. Dold, is currently playing through Aug. 27 at Barrington Stage Company's St. Germain Stage in Downtown Pittsfield, Massachusetts. Click here for more information and tickets.