REVIEW: 'Bender' depicts bloody story of murderous family in 1870s Kansas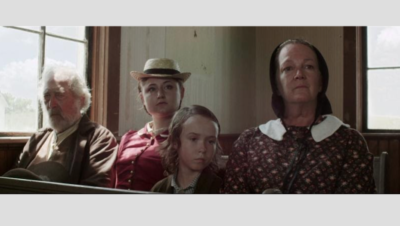 Bender, the new horror film from director John Alexander, follows a murderous family in 1870s Kansas and how they prey upon visitors who stop by their tucked-away abode. Amazingly and surprisingly the movie is based on a true story.
Horror fans should find the strangeness of the Bender family somewhat familiar, only because horror icon James Karen (The Return of the Living Dead) plays the father figure. X-Men's Bruce Davison also turns up for a quick scene.
The Benders run a small grocery where passersby can purchase oats and corn for their horses. Doctor York (Jon Monastero of The Book of Daniel) recently had a horrible accident with one of his patients in the local town, so he decides to leave in search of a different life. When he stumbles upon the Bender grocery, he has no idea what lies in store for him.
The motivation for the family's murderous ways is largely kept a mystery, and that's a gaping hole for the narrative. There's a sense that the mother (Leslie Woodies) and father (Karen) are looking for a proper husband for their daughter (Nicole Jellen), and when the potential suitor doesn't show interest, they bring out the blunt objects. However, this motivation is only hinted at and doesn't seem to offer much in the way of character development.
The one character who receives the most backstory is the doctor, and because of Monastero's fine acting job, the character proves to be the most engaging and interesting. That's not to say the other cast members are sub-par in anyway. One of the joys in this joyless film is that the cast members are dedicated to their roles and bring the requisite amount of creepiness to the story.
Horror fans won't be scared by this serial-killing family, but that's because Alexander is going more for the atmospheric thrills than the jump-out-of-your-skin scares. He lingers for a long time on the Kansas prairie, with its high grass and flat horizon. He wants to juxtapose the malignancy of this family's ways with the general serenity of the bucolic surroundings.
Bender, which is now available on DVD and digital HD from Candy Factory Films, is a good enough horror film for its relatively short 75 minutes. It doesn't add much to the genre, but it also excels in areas where most horror films fall short.
By John Soltes / Publisher / John@HollywoodSoapbox.com
Bender (2016), directed by John Alexander and written by Alexander and JC Guest, stars James Karen, Linda Purl, Bruce Davison, Leslie Woodies, Buck Taylor, Reylynn Caster, Jon Monastero and Nicole Jellen. Running time: 75 minutes. Rating:




Revised 8/17