INTERVIEW: 'Georama' tells story of forgotten 1850s artist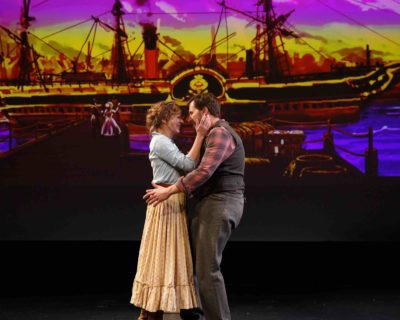 Here's a name you probably have never heard of: John Banvard.
In the 1850s, Banvard was arguably the most famous living painter in the world and the first millionaire artist, and yet his place in the history books is largely missing. A new musical called Georama: An American Panorama Told on 3 Miles of Canvas looks to change that oversight.
The show recently played the New York Musical Festival and is now wrapping up a run at the Peter Jay Sharp Theater as part of the festival's Next Link Project. The musical features music and lyrics by Matt Schatz and Jack Herrick, and book and direction by West Hyler.
The story centers on Banvard and his 3-mile long moving panorama celebrating the Mississippi River, perhaps his most famous piece of art. The cast features Randy Blair, P.J. Griffith, Jillian Louis, Nick Sullivan, Ana Marcu and Jacob Yates.
Recently, Hollywood Soapbox exchanged emails with Hyler, who served as story writer and director of Broadway's Paramour from Cirque du Soleil. His other Broadway credits include How the Grinch Stole Christmas and Jersey Boys. Questions and answers have been slightly edited for style.
How did you first get interested in this project?
I first learned about John Banvard in the short story Banvard's Folly by Paul S Collins. I felt it was a fabulous story of a forgotten American artist who really defined the country as well as the American dream and how fragile both are. I knew immediately it was a story worthy of the stage and began working to bring it to theatrical life.
In your research of the 1850s and John Banvard, what were some of the surprising discoveries you found?
I was surprised that Banvard was so popular that boutique industries sprouted up around his painting of the Mississippi River, including eye-ointment manufacturers who would sell eyedrops that would allow you to see more of the movement of John's  scrolling panorama.
What was it like to collaborate with Matt Schatz and Jack Herrick?
Matt is a phenomenal writer and one of the greatest artists I've ever had the pleasure to collaborate with, so I try to take credit for all the good ideas! Jack is the main force of the tone of the show and brought wisdom and experience, as well as genius musicianship. It took all three of us to bring the show [to] life, and it really has been like a [successful] marriage, and one that will hopefully last [until] the golden anniversary.
What do you hope is the next step for the production after the New York Musical Festival's Next Link Project?
I would love to see the show have a long life, both this production as well as other productions that are produced by theater companies across the country (with other actors and directors), so that we can share the amazing story of John Banvard with as many people as possible.
What were your experiences like working on Cirque du Soleil's Paramour? Were you sad to see the show didn't continue in another theater?
Paramour was a great undertaking to combine circus arts with musical theater narrative. My favorite moments were when the narrative story and physical acrobatics worked in tandem and actors and circus artists performed on stage together to bring the highly charged emotional moments to life. It was a dream to be a part of, and I wouldn't be surprised if it continues to have a life someplace in the world.
By John Soltes / Publisher / John@HollywoodSoapbox.com
Georama: An American Panorama Told on 3 Miles of Canvas finishes its run Sunday, Aug. 6 at New York Musical Festival's Next Link Project at the Peter Jay Sharp Theater. Click here for more information and tickets.