INTERVIEW: New doc charts the rise of 'East Bay Punk' with Green Day, Iggy Pop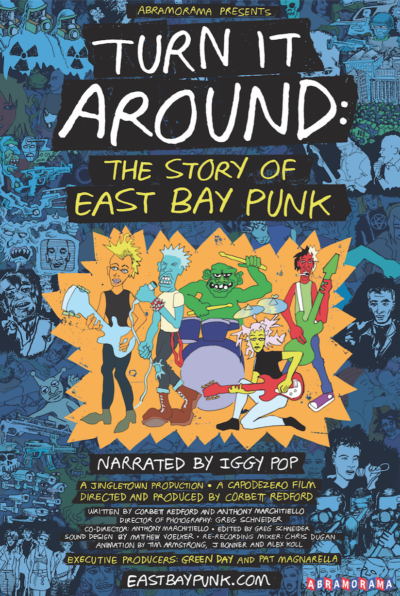 There are pockets of the United States that gave birth to some of the most influential music scenes in history. Think about Seattle and the grunge movement. Think about the Lower East Side of Manhattan and new wave rock. Think about the beaches of California and surf rock. Think about jazz and funk emanating from New Orleans.
Punk music has a global reach, laying claim to cities like London and New York City, but no one can downplay the influence and impact of the northern California scene. Punk rock in the Bay Area was legendary. For evidence, one simply has to look at the names that came from the area: Dead Kennedys, Avengers, Flipper. There was also Berkeley's 924 Gilman Club, which hosted the likes of Green Day, Isocracy and others.
Now the story of the Bay Area's punk scene has been preserved on film. Thanks to writer-director Cobrett Redford, fans of the genre can enjoy Turn It Around: The Story of East Bay Punk, an exhaustive and exhilarating feast that runs 158 minutes. Iggy Pop narrates the film, and Green Day are executive producers. That's some good company for a punk-rock film.
Recently, Hollywood Soapbox exchanged emails with Redford about the new documentary. Questions and answers have been slightly edited for style.
What inspired you to tell the story of the punk scene in California's Bay Area?
I have been a part of the local Bay Area punk scene for almost 20 years as a musician, volunteer and event organizer. It is a place near and dear to me, and its values and ideals had a big impact on the person I have become. I love the punk music history we have here and am proud to be a part of this diverse and important community. It was easy for me to agree to take on the project as I have deep involvement, love and respect for our Bay Area punk music scene.
How did Iggy Pop and Green Day join the project?
Green Day had the idea [to] do a project like [this] for many years — they brought me on to direct and produce the project (with the band serving as executive producers) in October 2013. After a few years of developing the documentary's narrative, we decided we needed a narrator to condense some themes — Billie Joe [Armstrong] contacted Iggy Pop, and Iggy was kind enough to say yes. We are honored to have the Godfather of Punk narrating our film.
What's one of the biggest surprises you found from your research and interviews?
I really enjoyed bringing to light that not only 'punk' artists took flight from the Gilman stage — people like author/director/artist Miranda July and the popular world music musician Michael Franti found early homes in the East Bay punk scene. That is very telling to me — punk is what you make it. It is not a style or a sound — it is an energy and a spirit.
What do you like most about punk music?
I love the genius in its simplicity and the heart in its message. Punk is a way of life — in my opinion, East Bay punk helped the ethos of punk evolve. It brought even more humor, intellectualism, working-class ideas and progressive ideals to the culture and the world at large.
Do you believe punk music is still misunderstood and not appreciated by some people? Or has it finally earned its respect?
Many people still think of punk as a costume, attitude or hairstyle. To me, it is much more than that — in summary, I believe it to me a code of sorts on how to treat other people with respect and … never underestimate yourself. As [it's] now over 30 years old, it has gained more respect, sure. Punks are everywhere. Even if you can't see us — we are teachers, artists, musicians, inventors, activists, filmmakers, entrepreneurs and even politicians.
The documentary is thorough, which leads to a longer running time. Could you have gone on for more hours?
The original cut was five hours long! We are looking to release deleted scenes … in the future. It is hard to condense 30 years of sacred history in a feature-length film, but I think we did a bang-up job.
By John Soltes / Publisher / John@HollywoodSoapbox.com
Turn It Around: The Story of East Bay Punk is now playing in movie theaters. Click here for more information.