REVIEW: 'Birdshot' is deep character study of father, daughter on the run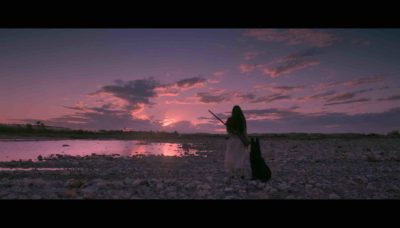 This year's selections for the New York Asian Film Festival have been gripping dramas that keep the pulse racing and the mind thinking. Add the Philippines' Birdshot to the list of films worthy of celebration. The dramatic character study is from the mind of director Mikhail Red.
In the movie, Maya (Mary Joy Apostol) commits a single, yet profound act of violence against a protected bird species in a nearby nature reserve. When she tells her father, Diego (Ku Aquino), about her action, he almost immediately realizes the gravity of the situation. An investigation is sure to follow, and the father-daughter team, who live by themselves on a farm near the nature reserve, will have to answer some difficult questions.
The two investigators on the case are Mendoza (John Arcilla) and Domingo (Arnold Reyes). Mendoza, a corrupt police official, seems quite content with the investigation surrounding the bird. He follows orders and elicits confessions by beating up witnesses. He definitely doesn't want to disturb the higher-ups, so he does as he is told.
Domingo is different. He's uncomfortable with Mendoza's violent ways and feels personally slighted that the duo are investigating a bird while there's a current manhunt in the country on a much larger case involving multiple victims. He's a man who starts out righteous, but eventually the corruption around him starts to weigh heavy on his emotions.
These four characters — Maya, Diego, Mendoza and Domingo — circle one another and try to hide information. Maya and Diego need to get off the hook for the bird killing, but Mendoza and Domingo need to close the case without any trouble. Eventually someone is going to fold.
Red's directorial efforts are greatly appreciated. He is able to capture the lushness of Diego's farm and the beauty of the pastoral landscape, and yet he also trains the lens on sudden acts of violence and degradation. He achieves an intimacy with his actors, following them under the wood boards of a house, into the high crops of the surrounding farm and down some dark corridors in the local police precinct. His work pays off with a taut thriller that matches plot with characterization to make for a wholly engaging feature.
The screenplay, written by Mikhail Red and Rae Red, is always believable and helps to define the characters' traits. Diego and Maya, for example, don't say too many words between them, so the dialogue is appropriately subdued. One gets the inkling that Diego has struggled to raise Maya by himself. Mendoza and Domingo, on the other hand, show frustration at their professional woes and often verbally fight with witnesses, fellow officers or amongst themselves; their dialogue is starkly different than Diego and Maya's.
The acting is excellently realized, especially from newcomer Apostol. Most of the story's arc centers on her coming of age. Even though Birdshot involves two police investigations and gripping drama, at the center of the narrative is a young girl trying to figure out life without her mother and with her emotionally distant, but caring father. This is her story.
Birdshot is a movie that deserves to break out of the film festival circuit in the United States. It's a strong entry for those wanting deeper cinema.
By John Soltes / Publisher / John@HollywoodSoapbox.com
Birdshot (2016), directed by Mikhail Red, stars Mary Joy Apostol, Ku Aquino, Arnold Reyes and John Arcilla. Written by Mikhail Red and Rae Red. Running time: 115 minutes. In Tagalog with English subtitles. Rating:




Click here for more information.