INTERVIEW: Syrian war hits close to home for this theatrical cast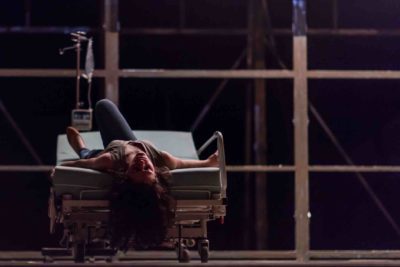 While I Was Waiting, which plays this week at the Lincoln Center Festival in New York City, is a dramatic tale of a family living in Damascus, Syria, and trying to piece together what happened to Taim, their loved one. He is in a coma, having been beaten at a checkpoint, and now he's stuck in limbo between life and death.
The parallels between this family's struggles and the ongoing war in Syria will be apparent to anyone paying attention to international news. However, for this ensemble of actors, the Syrian conflict is not merely material for a dramatic night at the theater. It hits close to home for each and every one of them.
In the play, Nanda Mohammad plays the role of Nada, Taim's older sister.
The actress always tries to find common points between herself and the characters she plays. "It was easy to find those points," she stated in an email to Hollywood Soapbox. "I thought this would [make] the [role] easier to do, but I was wrong. It was so difficult to be her, though she is close to me in many things. I tried many things during the process, and nothing worked. … I discovered that the main problem was that I wasn't still convinced that my old life in Syria was something [that] will never come back anymore, and I was jealous [of] her because she went back to Syria."
On stage alongside the actress is Mohammad Alrefai, an actor from Damascus, Syria, who portrays Taim in the play. He recently arrived in the United States — his first time to the country — and is ready to share this play with a New York City audience. The journey he has taken through rehearsals and relocation have been difficult. "Yes, we are so excited," Alrefai said recently in a phone interview. "We have worked a lot to get the visa to get here, so we are really excited."
AROUND THE WORLD
While I Was Waiting, written by Mohammad Al Attar and directed by Omar Abusaada, will play July 19-22 at the Gerald W. Lynch Theater at John Jay College. Joining Mohammad Alrefai and Nanda Mohammad on stage will be Hanan Chkir, Mohammad Alrashi, Reham Kassar and Mustafa Kur.
"We are living in different countries," Mohammad Alrefai said about his colleagues. "All of us are Syrian, but we are living in different countries. So for me I was applying [for my visa] from the embassy in Beirut, so it was difficult. The first time they refused my request, and then the festival worked on the process. And the next time it [took a] long time to be accepted, to get a visa, so for us it was difficult. And they told us maybe we will not get a visa to come to perform here."
The company rehearsed the play in Marseilles, France, and have performed the piece at European festivals. The play is co-produced by a who's who of European theater companies, including Festival d'Avignon, Napoli Teatro Festival and Theater Spektakel in Zurich, among others.
Each time that Mohammad Alrefai gets up on stage as Taim, he enters the double world of his character. In one world, he's in a coma and unable to respond to his family members. The other reality is where he breaks the fourth wall and narrates the story to the audience.
The family in the play, the actor said, is a "middle-class family in Damascus during the war." After Taim has his accident and enters a coma, the family comes together by his bedside. "After this accident, Taim went to another life," the actor said. "So he can see his family. He can hear them, but they can't [talk to him]. And he's telling the audience his story and the story of his family also."
Nanda Mohammad plays Nada, a young Syrian woman who has several problems with her mother after her father's death. "Her mother became so religious and forced her to wear the hijab," she stated in an email. "She didn't want to, but had no choice. After the Syrian revolution, she … decided that she doesn't want to wear the hijab anymore, and she did so. She moved to Beirut and started a new life there and didn't want to go back to Damascus. Her younger brother, Taim, sees her as an example, and he was all [the] time trying to stay in touch with her. But she didn't care a lot to stay close to him. When he is in the coma, she decides to go back to Damascus for [a] few days."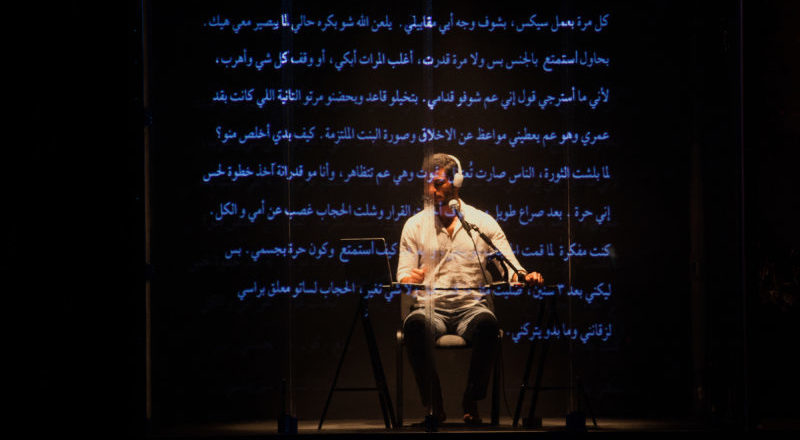 THE IMPACT OF WAITING
For Nanda Mohammad, what American audience members take away from the play is still an unknown, but she hopes it sparks a conversation. "I never ask the audience to learn something," she stated. "In any play I do, I always hope that the audience connect with us while watching it and to go back home full of questions, ideas and emotions. I would never think that I can change the world, but I do believe that art could change people."
It is the hope of her co-star, Mohammad Alrefai, that the audience will leave with a deeper understanding of the war in Syria and how it began.
Certainly it's a difficult story to tell, and the actor struggled in the early days of rehearsals. Even without the weighty material on his shoulders, this project was the first time he acted professionally outside of Syria.
"Actually at first it was difficult because I am an actor, and I was living in Syria and working in Syrian series and plays," he said. "So I haven't been out of Syria for work, especially in art. So when I started with Omar, [the director], it was a new style of acting for me and new style of performing, so at the beginning, it was difficult for me. And we have some small fights between me and Omar."
After a month of rehearsals and better understanding of the director's style, the actor grew into the role and worked hard at being a collaborative member of the ensemble. It has paid off with the European festival appearances and now a spot in the second week of New York City's Lincoln Center Festival.
For her part, Nanda Mohammad stated that she has great respect for the playwright and director, even though sometimes the experiences were difficult. "Making this project was important to us because it was the first project we do together after leaving Syria," she stated. "We always discuss the text together, and they are open most of the time to hear. I worked with Omar as an actress and as an acting trainer. Omar has a difficult way to work with the actors because he doesn't interfere a lot in how you build your [role]. For me, I don't [find] it a problem, and I enjoy acting with him."
There is one place in the world where these two performers cannot bring While I Was Waiting.
"No, we can't do it in Syria," Mohammad Alrefai said. "Yeah, I really hope [one day]. Usually when you are doing something, you wait for your friends and your family to tell you about this, about their opinions, about what they want you to do in the next step. So for me I don't have friends out of Syria, so for that I hope to make it in Syria to let my friends and my family see it. Especially [given] the Syrian situation, it's very difficult for people to go out of Syria and travel to see the play, so I really hope that. But now it's impossible to do that in Syria."
THEATRICAL BEGINNINGS
Damascus, Syria, is the place of Mohammad Alrefai's personal and professional memories. At 18 years old, he decided to become an actor and later entered the Higher Institute of Dramatic Arts in 2012. He was part of the "Home Grown" theater project with the Kevin Spacey Foundation and Middle East Theater Academy, according to his official bio, and since 2014, he has worked as a movement trainer in Syria and Lebanon.
Sometimes, the actor admitted, he still gets nervous when on stage. "Every new place we have performed this play," he said, "the first show at the first moment I feel like I am confused and nervous, but when I get on stage and I stand on the stage and start the play, I forget everything."
In the audiences of the play, there are sometimes Syrians who have been displaced. The actor said they come up to him afterward and display a range of emotions. "Many times after the play, some of the people come and hug us and crying and say, 'You [remind] us about Syria. We love you. We want to go back, but we can't,'" he said. "It's really very emotional, so I think people, Syrian people when they attend the play, especially those who left Syria for a long time, they really feel like home."
As he prepares for his July 19 debut at the Lincoln Center Festival, Mohammad Alrefai is also enjoying the wonders of New York City. Before this current trip, the United States was a place on the map relegated to American movies. Now he's able to experience the iconic places firsthand.
"We get used to watching American movies, but now when I am in New York, I feel like I am inside a movie because everything is like [a] movie — the streets, people and everything," he said. "So it's really tense and funny for me, and, yes, I am enjoying my time in New York. It's a very big city, and I'm really enjoying the shows here and the theater plays here because there's a lot of them. And there's a lot of theater and cinema. It's really different about my country. We have just three or four theaters inside Damascus, and also they are not always working all the time."
"I'm going to see something on Broadway in a couple of days," he added. "I have many plans here in New York to see many things, as much as I can."
By John Soltes / Publisher / John@HollywoodSoapbox.com
While I Was Waiting, part of the Lincoln Center Festival, will play July 19-22 at the Gerald W. Lynch Theater in New York City. Click here for more information and tickets.