INTERVIEW: 'Night Tide' finds sailor, mermaid falling in love at NYMF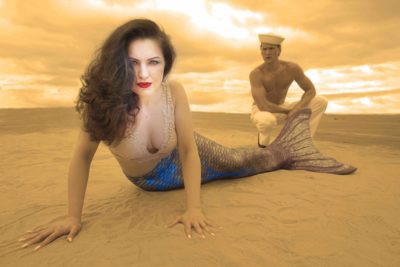 A mermaid and sailor falling in love? A kitschy, compelling tale of a siren luring a man to his watery grave? All set to a lush score with memorable lyrics?
Sounds like the New York Musical Festival is in town.
Night Tide is the new musical from composer Nathania Wibowo and lyricist/librettist Taylor Tash. The show, loosely based on the 1961 film starring Dennis Hopper and Linda Lawson, follows a sailor who finds himself in a ghostly seaside town and falling for a local woman who performs as a mermaid in a sideshow. As the two grow closer, her real identity (and motives) begin to surface.
Night Tide, directed and choreographed by Luis Villabon, will play July 17-22 at the Peter Jay Sharp Theater in Manhattan.
Recently Hollywood Soapbox exchanged emails with Tash about the new musical. The lyricist/librettist's previous credits include Happy/Perfect/Sunny in Las Vegas and Accomplice: The Village. Questions and answers have been slightly edited for style.
How did you get attached to this interesting musical project?
Since I was a teenager, I've been sort of obsessed with mid-century surf and tiki culture, the work of trash auteurs such as Ed Wood and Russ Meyer, and most things kitschy and macabre, so I feel like a creative project like this one was brewing inside me long before I was even conscious of it. It finally exploded out while I was going through a phase during which I exclusively listened to bands such as the B-52s and Cat's Eyes, and muscling through the uncomfortably liminal period of my late-mid-20s, so the story of a young navy sailor breaking out into song while dealing with first love and murder mysteries in a B-movie wonderland was oddly comforting and cathartic.
How closely did you work with composer Nathania Wibowo?
I couldn't have done this without Nia. We met on the first day of the BMI musical theater workshop, and I immediately fell in love with her profound ability to write music that's simultaneously beautiful, complex and infectiously catchy. She was the one who suggested we write a full-length musical together, and I was apprehensive about the possible outcomes of a collaboration at first, since she's inspired by fairy tales and love stories while I'm more interested in horror movies and sex scandals. We were super stoked to find source material such as Night Tide, however, since it's a perfect mash-up of what individually turns us on on, since it's about a sailor who becomes smitten with a woman who might be a mermaid, but she might also brutally murder all the guys who fall for her.
Did you use the original movie as inspiration?
The basic premise of sailor-meets-killer mermaid still remains, but we felt like the movie really missed a lot of opportunities to do a bit of a deeper dive into the psychological ramifications of the completely absurd situation the characters have found themselves in, which we totally wanted to explore further. We also knew we could have a lot of fun with the story's settings of boardwalks and tiki bars.
What do you hope the audience takes away from the your book and lyrics, and the show in general?
Night Tide is ultimately a story about delusion, and we believe that in this era of fake news and social media bubbles, it's crucial to examine the detrimental effects of people becoming consumed by their fantasies. But it's simultaneously a total romp filled with sea monsters, surf guitars and scantly-clad guys and Gidgets, so we want the audience to have a tubular time at our twisted little beach party.
Why are festivals like the New York Musical Festival so important to developing new work?
NYMF is a completely invaluable experience for fledgling creative teams like ours to thoroughly explore the ins and outs of producing an off-Broadway show. Nothing else could've kicked our butts this much as it did everything from forcing us to prove that our set won't catch on fire to reducing us to messy sobs of total joy the first time we heard our lead actress, the mind-blowingly talented Tara Martinez, belt her face off while delivering the title song. We are so grateful to the NYMF team for believing in our work enough to give us this truly one-of-a-kind opportunity, as well as for the tremendous support from our brilliant director/choreographer Luis Villabon and production designer Bill Smith.
By John Soltes / Publisher / John@HollywoodSoapbox.com
Night Tide runs July 17-22 at the Peter Jay Sharp Theater as part of the New York Musical Festival. Click here for more information and tickets.