INTERVIEW: Learning tough lessons at 'Fat Camp,' premiering July 17 on BET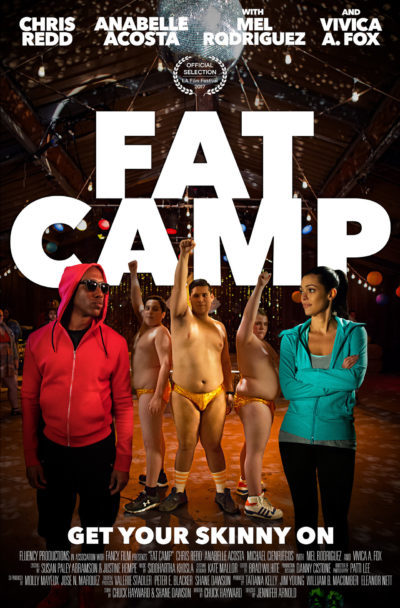 Fat Camp, the new comedy from director Jennifer Arnold, is set to premiere Monday, July 17 on BET and Tuesday, July 25 on VOD. The movie stars comedian Chris Redd as Hutch, a young man thrown out of his house and forced to work at his uncle's bootcamp for overweight children. The experience at the so-called "fat camp" starts off as a laughfest for Hutch, but eventually he begins to mature and see the struggles that these children endure on a daily basis.
The film also features Anabelle Acosta, Michael Cienfuegos, Mel Rodriguez and Vivica A. Fox.
Recently Hollywood Soapbox spoke with Redd and Acosta about the movie. Here's what they had to say:
CHRIS REDD
On why he signed up for the movie …
"As I was reading it, I was like, man, I'm going to say this stuff to children. And that was fun for me, too, because I've always been a fan of movies [like] Heavyweights. I'm a fan of movies where you have really funny people. Like I like Role Models where you have real funny adults and real funny kids. … And then just the message that you get from the movie was pretty powerful, too. After I read the script, I was like, yeah, I definitely want to do this."
On the laughs during the filming process …
"My goal all the time is to break every single cast member I have, so I'm always constantly talking s—, doing what I got to do, trying to make people laugh and break. There was so much of that. I've worked on a few projects now, and this one I hold near and dear to my heart because I had so much fun every single day. From the cast to the crew, everybody that was working on this project, I was constantly trying to just make laugh all the time, and everybody was doing the same. So we just had so much fun. When you're around kids all day, you kind of become like a grown kid because they're so happy and ready to talk, mess with you and just have fun. There were constantly times where we just had to retake things because people just kept laughing too much."
On any experiences he had with sleep-away camp …
"We did have church retreats, which is kind of the same thing. Like inside a building, you have cots, and Jesus is there. … We would have to sleep separate from the girls, and we would go because your favorite girls from church would go. And so you'd just go to see if your crush likes you, but that was like the closest thing I had to a camp."
On his excitement when hearing BET picked up the movie …
"I was like, man, it's a pretty solid audience for what our movie is. Our movie is pretty diverse, and it has a lot of good messages for the audience. I was shocked, surprised and happy at the same time. Man, we got a pickup even before it premiered. It was a blessing. You never know how these movies are going to do, and to see that happen was pretty dope."
On the message behind the movie …
"Yeah, that's what sold me on his character a lot, on Hutchins, the fact that he was impacted enough by these kids' issues, and by dealing with his own issues, [which] made him grow up and become a better person. If it had been like a one-note thing, nothing's good on one note, and so playing an a–hole is always fun. But you have to see behind the veil; otherwise it's just the same thing, seeing a mean person for an hour and a half. And that's never fun."
On working with Mel Rodriguez and Vivica A. Fox …
"Learning from Mel Rodriguez was really dope because we had that really, really serious scene near the end where he kicks me out of the camp. As I'm going through … getting into the emotion of it, he's delivering lines to me off-screen that are just tapping into my real life, and it helped me get to that place. And I just learned a lot from that.
"With Vivica, man, she was so cool. She's from Indiana; I'm from Chicago, so it's very similar energies. But it also weird because I've had a crush on Vivica forever, and then she comes to play my mom. So the second I met her, I'm like, 'Vivica, this is going to be weird for me because I am like in love with you ever since …' She was like, 'Booty Call.' I'm like, 'Yes.' … But she was super cool, and our chemistry on screen was amazing. It was so fun to play with her."
On the long hours on set …
"For me, I guess I've been prepping for this pretty much as long as I've been acting and doing comedy. I've always done long hours. I have a love for hard work. I've had about 50 jobs before comedy, so I was excited to be on set, to wake up to work out, get there, see how many different alternate lines I could come up with. I was excited, running off just the enjoyment and the adrenaline of having a part like this, and being able to bring what I can to it, and learning as much as I can, too, because this was my second movie at the time. … I just really was too excited to care about the work, to care about letting the work beat me down or being tired. It was long days, and my body definitely felt it. But I was just too excited to care."
On whether he'll watch the BET premiere …
"Oh, man, I like to see myself. I work too hard not to see myself on TV. Yeah, I'll be tuning in like everybody else. Then I'll be tuning in to Twitter and see how they take it."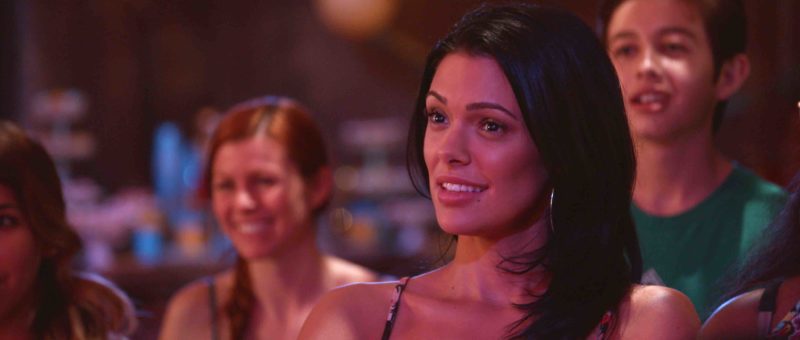 ANABELLE ACOSTA
On her first reactions to reading the script …
"I mean I loved everything. I thought the movie was so funny, so refreshing. I thought it had an amazing, positive message with the kids. I gravitated toward it. As soon as I read the script, I knew I wanted to do it. I fell in love with it."
On the message behind the film …
"I feel like I've kind of gone through some similar things that Abby had as far as like being a little bit out of shape when I was younger and going through body-shaming issues. I have a little brother that's also kind of gone through that and has also dealt with some bullying at school with friends and stuff, so it was a character that I just felt was very close to my heart. It was definitely a story I wanted to tell."
On whether she went to sleep-away camp as a child …
"I did not. No, I never went to camp. I definitely went to field trips, but I never went away to camp. No, I never experienced that."
On being on set with Chris Redd …
"Oh my God, I had such an incredible time. Chris Redd is just the best at what he does, so he makes it really easy to just work off of him. The kids are hilarious. They're so confident in their skin and so fearless that it just wasn't difficult at all to get on set and do what I did."
On the BET premiere …
"So blessed, so grateful. You know, you do these projects, [and] it's definitely a passion project. You put your all into it, and you hope for the best. And so many amazing stories and so many independent films never get to see the light of day, so I'm definitely very thankful this one is."
On whether she'll be watching the movie on TV …
"I don't like watching myself. No, I hate it actually. … But for this one, I may make an exception. I may gather my friends around and, yeah, throw a little shindig."
On the future …
"I have a couple projects coming up. I start shooting a film this fall called Lost & Found en Cuba. It's also a project I'm very passionate about. I'm really excited to portray a character. I was born in Cuba myself, and I've never portrayed a character this close to home. So I'm excited for that, amongst other things."
By John Soltes / Publisher / John@HollywoodSoapbox.com
Fat Camp premieres Monday, July 17 on BET and Tuesday, July 25 on VOD. Click here for more information.